The Barn Theatre, Southwick Community Centre
February 5, 6, 7, 8 & 9 1985
The Unexpected Guest
by Agatha Christie
Directed by
Rosemary Biggs
---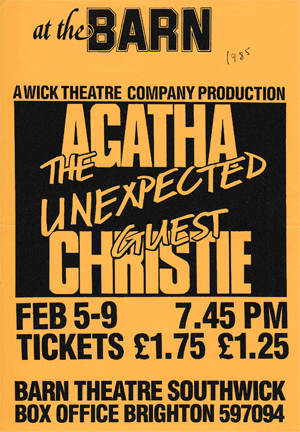 Cast
James Biggs – Richard Warwick
Mervyn Gerrish – Michael Starkwedder
Rosemary Mose – Laura Warwick
Sheila Wright – Miss Bennett
Martin Cramp – Jan Warwick
Edwina Fletcher – Mrs. Warwick
Nigel Collard – Henry Angell
David Davison – Sergeant Cadwallader
Ralph Dawes – Inspector Thomas
Michael Donkin – Julian Farrar
Production Crew
Producer – Joan Bearman
Designer – Sandra Peaty, Ralph Dawes
Stage Manager – Frances Thorne
A.S.M. – Margaret Davy
A.S.M. – Susan Whittaker
A.S.M. – Ronald Cheesman
A.S.M. – Dorothy Edney
Lighting & Effects – Frank Hurrell
Lighting & Effects – Barrie Bowen
Set Construction – Ralph Dawes
Set Construction – Brian Box
Set Construction – Mark Flower
Set Construction – Mike Davy
Set Construction – David Comber
Front of House – Mark Flower
Box Office – Jill Redman
Foyer Decor – Rosemary Biggs
Foyer Photography – Charles Porter
Programme Note #1: The Unexpected Guest
RB wrote: "It is some time since Wick presented an Agatha Christie play and it has been a pleasure to direct The Unexpected Guest, doubly so as this is my first as a Director for the Company.
Agatha Christie's characters are always very 'real' people and even the eccentric Richard Warwick, whose personality affects the whole atmosphere of this play, is no exception. Richard may well have been based on Agatha Christie's brother, Monty. He had been a big game hunter, was wounded, and on his return to England is described, by her, as 'one of the most difficult people in the world to live with'.
The incident, related by Laura in Scene 1 of Richard taking pot shots at a caller, actually occurred frequently with Monty. He even 'sent shots all round' Madge [his sister] and she was frankly terrified. 'I can't think why!' said Monty. 'I shouldn't have hurt her. Does she think I can't aim?' .. to quote Agatha Christie's autobiography.
I hope you will enjoy the play as you join our Inspector and his Sergeant unravel the plot. Can you be absolutely certain, even by the end of the play, who did do it?
We are happy to welcome Edwina Fletcher, Mervyn Gerrish and Nigel Collard, making their first appearances with us and it is good to have Mike Donkin back."