The Barn Theatre, Southwick Community Centre
October 11, 12, 13, 14 & 15 1983
Trespass
by Emlyn Williams
Directed by
Douglas Blake
---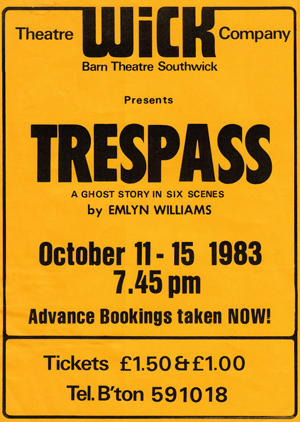 Cast
David Peaty – Bill
Margaret Faggetter – Gwan
Jill Redman – Maid
Ronald Cheesman – Mr. Grice
Rosemary Biggs – Mrs Henting
Pat Moss – Christine
Frank Semus – Dewar
Daphne Thornton – Mrs. Amos
Eddie Roberts – Saviello
Production Crew
Stage Manager – John King
A.S.M. – Margaret Davy
Lighting Design – Frank Hurrell
Set Construction – Brian Box
Set Construction – David Comber
Set Construction – Mike Davy
Front of House – Betty Dawes
Special Music Composed – Richard Addinsell
Programme Note #1: Trespass
DB wrote "Dear Audience, Is it really possible to bring a loved-one back from the dead? Christine certainly believes so and has already engaged various mediums in unsuccessful attempts to restore her recently dead, much loved husband, to life. But undeterred by failure, she has now invited Saviello, an Italian medium with a reassuring record of success. Yet is he what he appears to be? And what about his down-to-earth 'manager' Mrs. Amos?
As Shakespeare's Hamlet said to his friend Horatio: "There are more things in heaven and earth, Horatio, than are dreamt of in your philosophy'. In Trespass, Emlyn Williams explores some unusual aspects of the supernatural, and what you experience here this evening may well have you looking carefully around your bedroom tonight before you reach out for the light switch ….."
Programme Note #2: Trespass
"Our cast this season has one newcomer to both Wick and the Barn Theatre; Eddie Roberts. Eddie has always wanted to be part of Amateur Drama but has had to bide his time. Wick are very pleased he has joined and been available to play Saviello.
David Peaty returns after a long absence and joined the cast late in rehearsals for the important part of Bill.
Margaret Faggetter first appeared with Wick in Noah, our last play.
A sufferer from Muscular Dystrophy, Douglas has had the support of John King during the weeks of rehearsals."