The Barn Theatre, Southwick Community Centre.
February 23, 24, 25, 26 & 27, 1971.
---
The Waltz of the Toreadors
by Jean Anouilh adapted by Lucienne Hill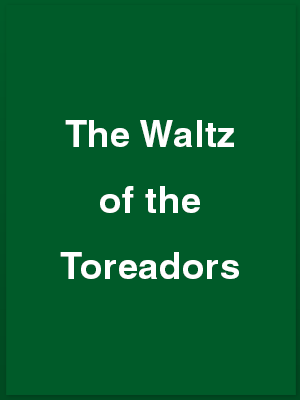 Directed by
Jon Peaty
Cast
Jack Bingham – General St. Pé
Margaret Ockenden – Emily, his wife
Ray Hopper – Gaston, his secretary
Carol Petherwick – Estella, his daughter
Rosalind Tripp – Sidonia, his daughter
Barrie Bowen – Doctor Bonfant
Hilary Wiltshire – Mlle Chislaine de Ste-Euverte
Susan Stinton – Eugenie, a maid
Audrey Laye – Mm. Dupont-Fredaine
George Porter – Father Ambrose
Miranda Bowen – Pamela, a maid
Production Crew
Stage Manager – Brian Moulton
Assistant Stage Manager – David Wiltshire
Production Secretary – Douglas Tucker
Costumes – Frances Moulton
Costumes – Carol Brand
Lighting – Frank Hurrell
Sound Effects – Terry Gibbs
Sound Effects – Frank Hurrell
Properties – Frances Thorne
Properties – Margaret Davy
Settings Designed – Jon Peaty
Front of House Manager – Paul Carpenter
Programme Note: Waltz of the Toreadors
JP wrote: "This play takes us back to the late Edwardian era, Gay Paris and the false securities of pre-1914. Our General St. Pe' is very much the peace-time officer with family problems! He dwells in the romantic past with the imagination of a Cassanova, ridiculous, loveable and possessing a touch of comic frailty. He and his ladies live around us to-day. The same wish to escape their age and live in a private world of memories and past glories. The waltz of human comedy – a battlefield! Jean Anouilh gives us a work of art – full of devilish cunning and sweetness, an insight into our lives.
It has been a privilege and pleasure producing this talented Company in the delightful Play. Many thank to you all."
---