The Barn Theatre, Southwick Community Centre.
April 14, 15 & 16, 1966.
---
A Touch of the Poet
by Eugene O'Neill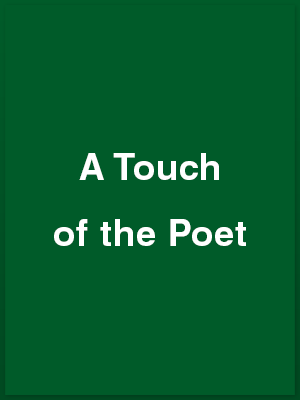 Directed by
Betty Dawes
Cast
David Creedon – Mickey Maloy
Ray Hopper – Jamie Cregn
Clodagh O'Farrell – Sara Maloy
Betty Elliott – Nora Maloy
Barrie Bowen – Cornelius Melody
John Wilson – Dan Roche
David Goodger / Brian Moulton [when DG fell ill] – Paddy O'Dowd
Peter Power – Patch Riley
Frances Moulton – Deborah [Mrs. Henry Hardford]
Ralph Dawes – Nicholas Gadsby
Production Crew
Stage Manager – Frances Thorne
Settings – John Perrett
Lighting – Frank Hurrell
Properties – Margaret Perrett
Wardrobe Mistress – Morfydd Bowen
Sound Effects – Terry Mase
Production Manager – Dorothy Burnside
Audience Officer – George Porter
Box Office [Southwick 2542] – Mary Chinchen
Programme Note: A Touch of the Poet
BD wrote: "When I saw this play some years ago in Brighton I found it so powerful and haunting that I knew I had to work with it at a closer and more intimate level. A Touch of the Poet in essence deals with the personality of one man, Melody, and it is O'Neill's ability as an author to capture the basic truth of this personality which gives the play its appeal.
I welcome you with great pleasure to this our 50th production; the play I am sure is equal to the occasion; I hope you will find the Wick Theatre Company is equal to the play."
---