The Barn Theatre, Southwick Community Centre.
June 16, 17, 18 & 19, 2004.
---
Home
by David Storey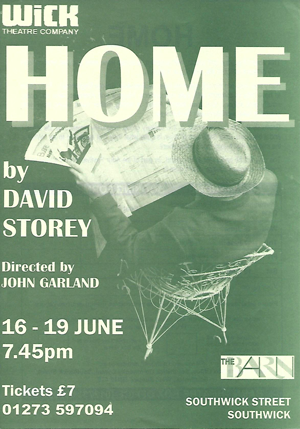 Directed by
John Garland
Cast
Derek Fraser – Harry
David Goodger – Jack
Rosemary Mose – Kathleen
Joan Bearman – Marjorie
John Garland – Alfred
Production Crew
Lighting – Janice Gooch
Sound Design & Operation – Simon Snelling
Technical Manager – Ryan Lainchbury
Stage Manager – David Comber
ASM – Olive Smith
Costume – Cherry Briggs
Workshop Team – Mike Davy
Workshop Team – David Collis
Workshop Team – David Comber
Workshop Team – Marc Lewis
Workshop Team – Brian Box
Front of House – Betty Dawes
Publicity – Rosemary Bouchy
Publicity – Rosemary Brown
Publicity – Judith Berrill
Programme Note #1: Home
John Garland wrote in the programme; "When I was asked to direct this play, I thought it might be a little too close to home for me to be objective. However, throughout the rehearsal period, I have become aware of the hidden depths of the piece and the wonderful writing style of the author. The five residents that we meet may not have anything particularly original to say but the poignancy of their situation, and the strategies that they employ to cope with it, gives a fascinating snapshot of their lives. For this I am very grateful to my cast who have worked extremely hard to master the text and get under the skins of the characters. Much rehearsal time has been spent exploring what makes the tick and I hope this shows in the end result.
The days of large scale institutions have now passed, but we should remember that the original purpose was to provide a place of safety for those too vulnerable to live in the outside world. Although I staunchly advocate the benefits of community care, I feel we should never forget the generation of people for whom the asylum really did become a "Home".
---