The Barn Theatre, Southwick Community Centre.
June 6, 7, 8 & 9, 1990.
---
The Killing of Sister George
by Frank Marcus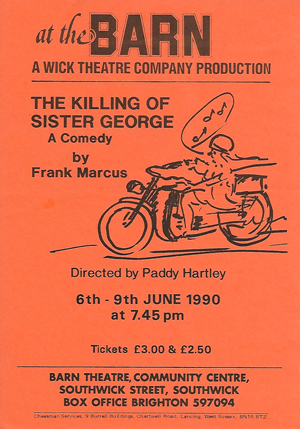 Directed by
Paddy Hartley
Cast
Daphne Thornton – June Buckridge [Sister George]
Rosemary Mose – Alice McNaught [Childie]
Frances Moulton – Mrs. Mercy Croft
Joan Braddock – Madame Xenia
Production Crew
Stage Manager – Dave Comber
Properties – Margaret Davy
Properties – Sue Whittaker
Continuity – Sandra Eardley
Set Design – Dave Comber
Lighting – Frances Thorne
Sound Effects – Alison Cattell
Box Office – Jill Redman
Publicity – Andrew Cregeen
Publicity – Ann Donkin
Publicity – Jean Porter
Programme Note #1: The Killing of Sister George
PH wrote: "Whether it be the American Dallas, the Australian Neighbours or our own Coronation Street, long running 'soaps' are now a fact of life.
For some people, the characters, like 'George' step out of the realms of fantasy and become real.
Like Chaplin's films, this play shows how comedy and pathos walk hand in hand."
---