The Barn Theatre, Southwick Community Centre
June 27, 28, 29 & 30, 2018
---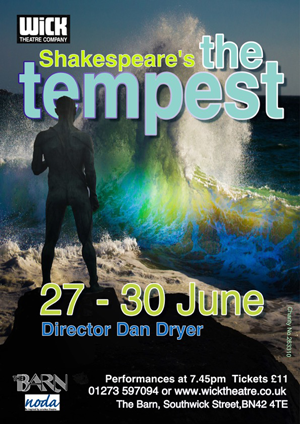 The Tempest
by William Shakespeare
Directed by
Dan Dryer
---
A man waits. Robbed of his position, power and wealth, his enemies have left him in isolation. But this is no ordinary man and this is no ordinary island.
Shakespeare's last play has long dazzled readers and audiences with its intricate blend of magic, humour, intrigue and tenderness.
Atmospheric use of lighting and sound along with some of Wick's most talented actors, will conjure up a tempestuous evening of sorcery, revenge and romance.
CAST
Derek Fraser – Alonso – King of Naples
John Garland – Sebastian – his brother
Bob Ryder – Prospero – the Right Duke of Milan
Susanne Crosby – Antonio – his brother
Sophie Lane – Miranda – daughter to Prospero
Emily Hale – Ariel – an airy Spirit
Jacqueline Harper – Caliban – a savage deformed Slave
David Aithison – Ferdinand – son of the King of Naples
Tony Brownings – Gonzalo – an honest old Counsellor
Peter Joyce – Adrian, Francisco – Lords
Guy Steddon – Trinculo – a Jester
Alex Bond – Stephano – a drunken Butler
Brian Cowles – Master of a Ship, Boatswain, Mariners
Judith Berrill, Anna Steddon, Andrea Jones – Iris, Ceres, Juno
---