The Barn Theatre, Southwick Community Centre
January 8, 9, 10, & 11 2020
From TV's Dead of Night series –
The Exorcism
by Don Taylor

---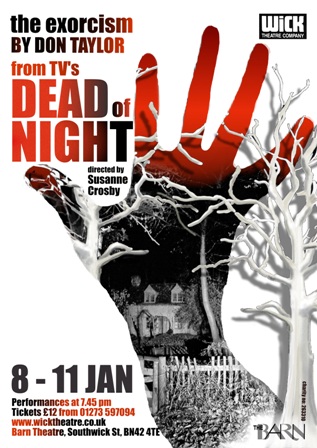 Directed by
Susanne Crosby
It's never absolutley dark, is it? There's no such thing as absolute darkness ..?
Dan and Margaret have come to spend Christmas with Rachel and Edmund in their renovated seventeenth century cottage in beautiful countryside.
As Rachel plays the piano, she suddenly gets a sinister feeling of déjà vu … shortly afterwards the electricity fails and the phone is out of order … it is the start of a series of macabre events which mount relentlessly to a bizarre and terrifying climax.
This classic ghost story set in 1972, when exorcism had more general meanings, is about a centuries old injustice, exorcised by long silent spirits and the four unfortunate people who are .. drawn .. unwillingly .. in ..
Don Taylor's play is perhaps best known for being the first in the Dead of Night TV series, broadcast on BBC in November of 1972; Mr Taylor directed the TV adaptation.
Cast
Rachel – Anna Steddon
Edmund – Sam Razavi
Margaret – Emily Dennett
Dan – John Garland
Newsreader – Dan Dryer
---