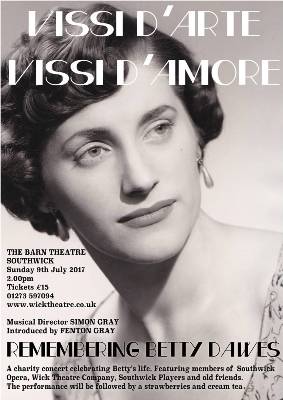 Remembering Betty Dawes
July 9th
2.00pm
Tickets: £15
Box Office: 01273 597094
Buy Tickets: Online
Afternoon's Synopsis
A wonderful collaboration between the Barn Theatre's three resident companies to celebrate the life, passions and the far reaching impact of the late Betty Dawes.  .
A founding member of the 1948 fledgling drama group, that was to become the Wick Theatre Company, they initially received encouragement from two members of the Southwick Players.  And here we are seventy years down the theatrical road to recognise that Betty was happiest when at the Barn Theatre.
President of both Wick Theatre Company and Southwick Operatic, regular attendee at many of the productions performed in the theatre and stalwart supporter, and lately its President, of the Community Centre and its activities.
The ticket price includes strawberries and cream with Cava or Prosecco after the show.
Directed by
Amanda Evans
Musical Director
Simon Gray
Introduced by
Fenton Gray