The Barn Theatre, Southwick Community Centre
October 2, 3, 4, & 5 2019
Taking Sides
by Ronald Harwood
---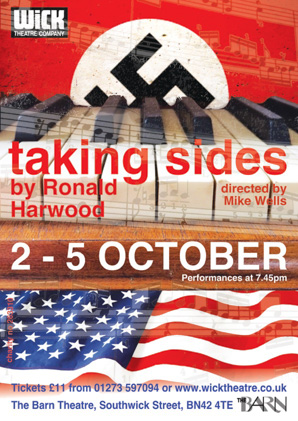 Directed by
Mike Wells
The great orchestral conductor Wilhelm Furtwängler had a choice when Hitler came to power in Germany. He could have left and showed his disgust at a violent racist dictatorship. Or he could have stayed to protect the values of German civilisation and help his fellow musicians.
He stayed and conducted for Hitler. Did he do the right thing? Was he just putting his personal ambition above his principles? Should he have left the country and lived as an exile? What would we have done?
The play takes place in the ruins of Berlin after the German defeat. To work again Furtwängler must be investigated by an American de-Nazification tribunal. But this is run by a hard-nosed, hostile US officer who has no interest in music and little sympathy for the great conductor. As the interviews go on, the tension between the two men rises. It is increasingly difficult to know what is right and which side to take.
The powerful and compelling play explores a fascinating and disturbing dilemma that faced creative artists in Nazi Germany. But it raises wider issues – as what point do we say 'NO' before it is too late?
Cast
Major Steve Arnold – Sam Razavi
Wilhelm Furtwängler – David Creedon
Emmi Straube – Lucy Mae Knight
Lieutenant David Wills – Luke Mepham
Helmut Rode – Graham Till
Tamara Sachs – Sue Goble
---