The Barn Theatre, Southwick Community Centre
June 22, 23, 24, 25
The Haunting of Hill House
adapted by F Andrew Leslie
from the book by Shirley Jackson
Directed by Guy Steddon
---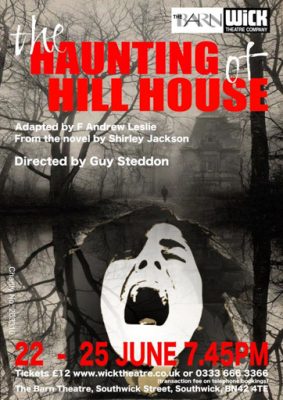 Hill House stands alone, holding darkness within; and whatever walked there … walked alone.

After reading about a group of "psychic researchers" who studied a house in the 19th Century and wrote their findings for the Society for Psychic Research, Shirley Jackson decided to write her own ghost story. It was the people involved in the research which also seemed to hold fascination for her: their different backgrounds, motivations and intentions. She began reading and researching ghost stories; as Paula Guran quotes her as saying: "No one can get into a novel about a haunted house without hitting the subject of reality head-on; either I have to believe in ghosts, which I do, or I have to write another kind of novel altogether."

"The Haunting of Hill House" concerns Paranormal Researcher Dr Montague who rents the notorious Hill House for a summer of investigation and invites people whom he has chosen because of their experiences with supernatural occurrences, including the outgoing bohemian Theodora and shy and timid Eleanor. Together with Luke Sanderson, the heir to the house; they experience increasingly strange events: writing on the walls, whispers in the shadows, pounding at the doors and more. Eleanor, however, begins to experience phenomena to which the others are oblivious and slowly she begins to unravel.

Proclaimed by Stephen King as the scariest ghost story of all time, the gothic novel by Shirley Jackson was shortlisted for the National Book Award, and is widely thought of as one of the best ghost stories of the 20th Century, and the quintessential haunted house story.

Director Guy Steddon who also plays Dr Montague, says: "One of the hardest things in theatre is to genuinely frighten or unnerve an audience. Not a jump scare, they are easy, but delivering that deliciously icy feeling of dread. This play is based on a brilliant novel, one of my all-time favourites." With lighting effects and an eery soundscape, the cast and crew are all hoping to leave audiences with a feeling of having been delectably scared.
Cast
Rose Shaw – Eleanor Vance
Lorena Di Bitonto – Mrs Dudley
Naomi Dasilva Perez – Theodora
Guy Steddon – Dr John Montague
Luke Mepham – Luke Sanderson
Nicola Russell – Mrs Montague
John Garland – Arthur Parker
---