The Barn Theatre, Southwick Community Centre
January 3, 4, 5, 6 2018
---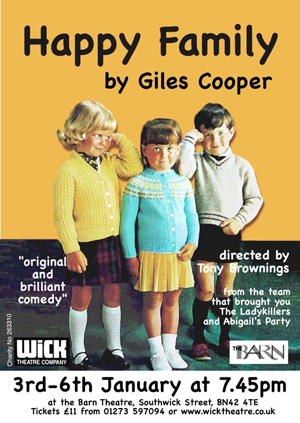 Happy Family
by Giles Cooper
Directed by
Tony Brownings & Bob Ryder
This was Giles Cooper's last play before his untimely death at the age of 48. Happy Family was first presented at the Hampstead Theatre in 1966 starring Wendy Craig.
The happy family is: Mark the bully. Susan the bossy older sister. Deborah the innocent.
None, have really grown up and the introduction of Susan's new fiancé stretches their childhood chains to breaking point.
The characters are completely bonkers. The play disturbingly funny- with some crackling one liners!
---
CAST
Emily Hale is Deborah Solstice
Dan Dryer is Mark, her brother
Lyn Snowdon is Susan, her sister
Mark Best is Gregory Butler