The Barn Theatre, Southwick Community Centre
March 27, 28, 29, & 30 2019
Macbeth
by William Shakespeare
---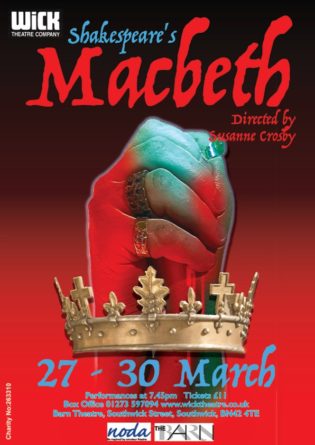 Directed by
Susanne Crosby
A brave Scottish General, Macbeth, receives a prophecy from a trio of witches that one day he will become King of Scotland.
This glimpse into the future has catastrophic consequences.
Spurred into action by his wife, he propels himself on a destructive journey of ambition and lust for power, which slowly destroys all in his path.
Shakespeare shows us, in Macbeth, the dangers of ambition without conscience and what happens when guilt catches up with us and brings us to reckoning. Greed, murder, supernatural prophecies – and a very human General who after one dreadful act is propelled headlong into tragedy.
This play is about how those who have unchecked rule and desire for power, for its own sake, can destroy everything and everyone before them; including the ones they say they love – the echoes of which are still relevant today.
Cast
Guy Steddon – Macbeth
Jacqueline Harper – Lady Macbeth
Phil Nair – Brown – Macduff
Emily Hale – Witch
Nettie Sheridan – Witch
Katie Hunwick – Witch
John Garland – Banquo
Peter Thompson – Duncan
Kane Magee – Malcolm
David Aitchison – Donalbain
Sam Razavi – Lennox
Dan Dryer – Ross
David Aitchison – Menteith
Elliot Robinson – Angus
Katie Hunwick – Lady Macduff
Giles Newlyn–Bowmer – Fleance
Andy Stace – Seyton
Derek Fraser – Doctor
Claire Coull – Gentlewoman
John Garland – Siward
Elliot Robinson – young Siward
Andrew Wesby – Sergeant/Captain
Andrew Wesby – Porter
David Aitchison – Murderer
Elliot Robinson – Murderer
Andy Stace – Murderer
Derek Fraser – Wise old man
Giles Newlyn–Bowmer – Servant
Peter Joyce – Servant
Andrew Wesby – Servant
Andy Stace – Servant
---