In Memory of
Douglas Tucker
13 . 07 . 1921 – 31 . 03 . 2014
---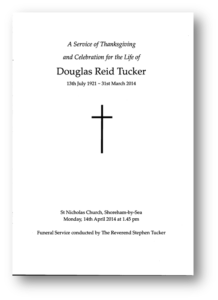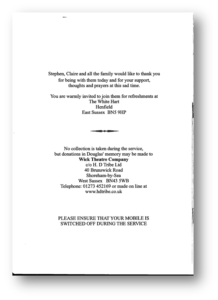 Wick News May 2014 the carried this tribute.
A native of Brighton, Douglas attended school in Henfield and Clark's College, Brighton. He began his banking career with Barclays in 1939 at North-street, Brighton, and later that year transferred to Steyning branch, where he remained until enlisting with the Royal Air Force in 1941. After serving in Egypt and Palestine he was demobilised in 1946.
Douglas met his future wife, Elizabeth; she was working in the place where he was demobbed and they were married in 1948. [Elizabeth went to all his production and had one minor rôle in Lady Windermere's Fan in 1972.] Douglas returned to the Bank in Henfield. He later worked at several branches in the Brighton area and at Brighton Local Head Office before being promoted manager's assistant at Preston Circus, Brighton in 1963.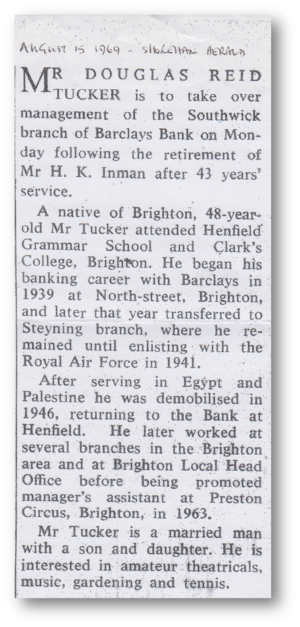 In 1969 Douglas was promoted to Manager of Southwick branch of Barclays Bank. In accordance with Barclay's custom Douglas engaged with the Shoreham Herald in announcing his new tenure. The piece, carried in the August 15th 1969 issue concluded with: "Mr Tucker is a married man with a son and daughter. He is interested in amateur theatricals, music, gardening and tennis."
Not many weeks after publication, Jean Porter stopped by Douglas' office and invited him to join the Wick Theatre Company. 6 months later Douglas strode onto the Barn stage in the rôle of the Bishop of London in Anouilh's Becket. Douglas, whose acting days go back to World War Two when he formed a troupe in Jerusalem, was a very busy member, being involved in 24 productions; three he directed.
Of his first rôle the Brighton & Hove Gazette observed Douglas "is an excellently conniving Bishop of London". Later in Sailor, Beware! [1979] as Rev. Oliver Purefoy, the same paper's reviewer noted he "successfully solves the problems".
During the Service of Thanksgiving and Celebration for the Life of Douglas, held on Monday, 14th April in St Nicolas Church, Shoreham-by-Sea, Douglas' son The Reverend Stephen Tucker, reflected that his father may have been attracted to the priesthood at one time. He, maybe, fulfilled this aspiration by becoming very involved with charitable works and lent on his considerable financial experience when counselling those needing help with money-worries, as part of his duties with Shoreham's Citizens Advice Bureau. He saved many from destitution, was the view of one colleague. Douglas' grandsons spoke of him being a "true gentleman" one who was "gentle, in word and way and deed, goodness makes him sparkle, kindness his creed". His bearing was equally observed by casting directors.
Douglas played a Lord – twice – a French Count, a Councillor – twice – and as Colonel Hugh Pickering in My Fair Lady [1976] was "faultless". Brighton and District Drama Association's Full Length Drama Festival Best Actor Awards came his way in both 1974 for his "ascetic and astringent inquisitor" in The Lark and in 1975's production When We Are Married as the "archetypal social climber", Councillor. Albert Parker.
For Douglas there were equally memorable performances out side of these; Hotspot in Fings ain't wot they used t'be , was one recalled by his son who noted that the production's review included; "But my star was Douglas Tucker, who cleverly brought to life, with his accent and mannerisms, light fingered scrounger named Redhot", a far cry from the Reverend and the Councillor; and who knows what the Colonel would have said!
But Douglas' talents were not all treading the boards, three productions have him credited as Director; Man About the House [1981] – "first production – it should not be his last" – Goodnight Mrs. Puffin [1982] – "very funny and a delight to watch" – Blithe Spirit [1984] – "Two and a half hours of pure enjoyment".
Having reprised Councillor Parker in 1989, 15 years after the production's first run, Douglas last trod Wick's boards in 1992. His final appearance; in Jeffrey Archers' Beyond Reasonable Doubt – a "convincing performance as the dutiful Lionel Hamilton". Always an active supporter of the Company, Honorary Life Member Douglas was at the Christmas Carol evening hosted by Betty and Ralph Dawes last December and in the audience this January to see Life & Beth.
Douglas and his family, remembered his Wick days to the end: "No collection is taken during the service, but donations in Douglas' memory may be made to Wick Theatre Company".
"The gentleman I knew was a man of men …" said his grand-son.
---
Richard Porter recalled that Douglas was,
"A generous man and his generosity extended to his stage performances.
He always related to his fellow actors and had a great rapport with an audience. No one who witnessed his Lord Brockhurst, in The Boyfriend will ever forget it.
Together with Ann Baker, as Maisie, their Never Too Late routine stopped the show every night – many nights taking two or three encores. A performance he loved to remember."

---