The Barn Theatre, Southwick Community Centre
December 11, 12, 13, 14 & 15 1973
The Amorous Prawn
by Anthony Kimmins
Directed by
Audrey Laye
---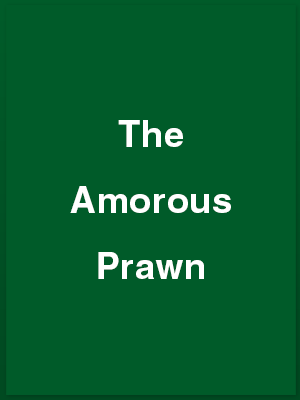 Cast
Barrie Bowen – Corporal Sydney Green
Monica Joyce – Private Biddy O'Hara WRAC
Valerie Burt – Private Suzie Tidmarsh WRAC
Jean Porter – Lady Fitzadam
Keith Denyer – Major General Sir Hamish Fitzadam KBE, CB, DSO
Bill Mack – Private Albert Higgins
Raymond Hopper – Private Willie Maltravers
Alan Upton – Sam Goulansky
David Creedon – Larry Hoffman
Jack Bingham – The Prawn
Raymond Hopper – Uncle Joe
Production Crew
Stage Manager – George Laye
Assist Stage Manager – Paul Vrettos
Assist Stage Manager – Ethel Barrs
Assist Stage Manager – Ulla Sharman
Design – George Laye
Lighting – Frank Hurrell
Sound Effects – Roger Stott
Wardrobe – Mary Payne
Properties – Margaret Davy
Properties – Frances Thorne
Front of House – Mike Donkin
Programme Note #1: The Amorous Prawn
AL wrote "Against a wintry background of fuel shortages, power cuts and strikes we offer the light-hearted entertainment and relaxation of The Amorous Prawn. It is a farcical comedy and moves from one improbable situation to another.
The wife of the G.O.C., North Western District decides to raise money by turning the official residence into an hotel in her husband's absence. She is aided and abetted by the service personnel who staff the house and all goes well until the arrival of the 'Prawn' and then ….. well, all is resolved in a hilarious climax.
I consider it a well constructed, well written play of its type – a light hearted diversion from everyday cares."
Programme Note #2: The Amorous Prawn
The Amorous Prawn brings us to the halfway point in our 25th Season. Until very recently 1948 [our foundation year] seemed a long time ago but suddenly the ration books and the paraffin heated offices, the queues and the power cuts have brought back many memories. "It's yesterday once more".
In the theatre a great deal has happened since 1948. Although it is fashionable [when has it not been?] to grumble about the 'dearth of good modern writers' most of us are aware that the last two decades have produced many remarkable plays and a shift in emphasis away from diversion and entertainment to plays which explore some of the complex emotions of our strange modern society.
The remainder of our Season needs very little introduction. Tennessee Williams' magnificent play Night of the Iguana will be produced by George Porter on February 12-16 1974 [Please note this date: there was a mistake in our letter to patrons placing this production in January.] Nikki Le Roy will produce An Italian Straw Hat from April 27 – May 4 1974 and this looks like giving him the perfect vehicle for his own particular originality. Richard Porter is producing White Liars for the Southwick Festival April 19/20 April 1974. This is a play which will intrigue you and it has been strongly cast.
So there is much to look forward to. In planning each season we like to feel that we are starting a dialogue with our audiences. You contribute to the dialogue firstly by booking seats and then by your reactions when you are here. Some of you go further and write to us about our productions and we welcome this enthusiastically. Be as critical [or as ecstatic] as you like – we don't mind upsetting you [a little] sometimes but we would never forgive ourselves if we bored you!