The Barn Theatre, Southwick Community Centre
September 28, 29, 30 – October 1 & 2 1971
A View from the Bridge
by Arthur Miller
Directed by
Jean Porter
---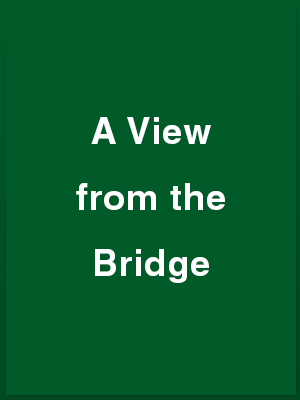 Cast
Neil Shepherd – Louis
David Wiltshire – Mike
Jack Bingham – Alfieri
Brian Moulton – Eddie
Anne-Marie Sparkes – Catherine
Valerie Bingham – Beatrice
David Creedon – Marco
John Davidson – Tony
Ray Hopper – Rodolpho
Mike Donkin – 1st Immigration Officer
Alan Upton – 2nd Immigration Officer
Ronald Bolt – Mr. Lipari
Audrey Laye – Mrs. Lipari
Patrick Newman – 'Submarine'
Ann Baker – Women
Susan Hollis – Women
Angela Lovett – Women
Jane Smith – Women
Yvonne Coussins – Women
Production Crew
Assistant Director – Neil Shepherd
Stage Manager – Barrie Bowen
ASM – Stephen Moulton
Lighting – Frank Hurrell
Wardrobe – Frances Moulton
Properties – Margaret Davy
Set Design – George Porter
Set Design – Barrie Bowen
Programme Note #1: A View from the Bridge
JP wrote "A View from the Bridge is a modern play with an age old theme, a Greek tragedy worked out with a rare sensitivity and insight into the strange nature of human love. Eddie Carbonne is one of those towering characters that people Arthur Miller's plays – like John Proctor in The Crucible. Solid, three dimensional, and doomed, inexorably, despite his strength. Vulnerable because he doesn't, cannot, understand the nature of his own love. But the whole play is vivid with finely drawn characters. This is a great play and working on it with a wonderful team has been a most happy experience."
Programme Note #2: A View from the Bridge
" In that delightful Julian Slade musical Salad Days – our May production next year – the undergraduate lovers sing 'We said we wouldn't look back'. Which is alright for young lovers but I hope you will forgive an older lover – of drama – for reminiscing a little about the Amateur Theatre, [a derided phrase in some circles].
After all this is the first play in a new era for Wick Theatre Company.
Hurrah for the new workshop and rehearsal l room. No more squatting on the waterfront in the odd corners of warehouses and marine stores. We are in occupation of our new premises with an enthusiastic team ready to present evermore interesting plays. Which leads me to this backward glance. We've mulled over, mauled and mashed up a few plays in our time. After all we did start as a Youth Group back in 1950. Ralph Dawes tells the story of an early play, was it Hogs Blood and Hellebore of 1951when the same chunk of dialogue was battered around three times before they were able to continue the scene. Then there was the play that finished twenty minutes early because a third act cue came up in the second act. Perhaps that was And This Was Odd, in 1952.
The scenery they used in those days was made of canvas from the old Brighton Tram destination rolls. We still have a few flats of that type kicking around somewhere. We used to make all our scenery in the open at Penney's Yard in Albion Street – an occupation for spartans on cold Sunday mornings amongst the coal dust. Our dear Molly Penney's house in Church Lane was our HQ and she would no doubt agree that we've come a long way since those days. But we did have success when young. We won the Southwick Festival frequently, and I had a nostalgic glimpse of the past the other week when the Shoreham Herald turned out some photographs of Young Wick plays. Stripling Workmans, Dawes, Elliotts, Moultons, Hoppers and Bowens grappling with such plays as The Girl Who Couldn't Quite [1953], The Ghost Train [1954], Blithe Spirit [1955], Pink String and Sealing Wax [1956], The Happiest Days of Your Life [1957], and so on. It was fascinating and, of course, funny – other days, other clothes, how we change!
The point is we have, I think, gone on improving with experience and training, particularly in the acting and production field. Do you agree? Well at least we've tried to keep up our standards and put on worthwhile plays. Admittedly our sets have suffered a little from our lack of workshops for several years but before that we had some memorable sets – Bess Blagden's production of Captain Carvallo had a wonderfully atmospheric set, and A Touch of the Poet our 50th production had a beautiful set meticulously constructed.
Now we have the place and resolve to give you memorable settings again.
What an absorbing hobby drama is! When you're in a play you think, talk and dream about it. You're a member of a team, rehearsals are important, you can't let the others down. Perhaps we do not have enough time to read plays and that is where you, the audience, can help. If you read or attend plays and you think there is something we ought to do, please tell us. We have a play reading and selection committee who do welcome your suggestions. You might even like to be represented on that committee.
Enjoy yourselves tonight. More anon.
This is Anne-Marie's first part with Wick. She is French/Canadian and the trip from Quebec to Brooklyn should be a short haul for her. We welcome her to the company and hope she finds much enjoyment in this and future productions. We are certainly enjoying and benefiting from all she can teach us about western dialects. Valerie is no new comer either to Wick or this play. She played Catherine in earlier days – a little earlier – and is an Arthur Miller fan. Playing Beatrice is another ambition achieved.
Valerie is no newcomer either to the WICK or this play. She played Catherine in earlier days – a little earlier – and is an Arthur Miller fan. Playing Beatrice is another ambition achieved.