The Barn Theatre, Southwick Community Centre
February 10, 11 & 12 1966
Semi-Detached
by David Turner
Directed by
George Baker
---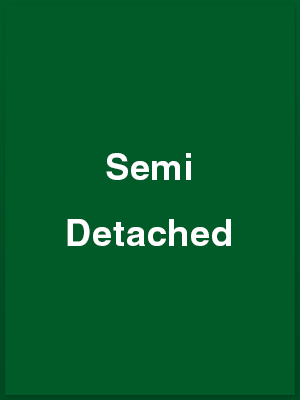 Cast
Jean Porter – Hilda Midway
Ian Elliott– Fred Midway
Terry Phillipe – Tom Midway
Jean Bailey – Eileen Midway
Barrie Bowen – Robert Freeman
Fay Sturt – Avril Hadfield
David Goodger – Nigel Hadfield
Betty Dawes – Garnet Hadfield
Ralph Dawes – Arnold Makepiece
Production Crew
Stage Manager – Clodagh O'Farrell
Production Manager – Dorothy Burnside
Lighting – Frank Hurrell
Properties – Margaret Perrett
Sound Effects – Terry Mase
Scenery – Barrie Bowen
Wardrobe Mistress – Morfydd Bowen
Audience Officer – George Porter
Box Office [Southwick 2542] – Mary Chinchen
Programme Note: Semi-Detached
GB wrote: "This is a farce about the modern status race and is in the Classical tradition of say, Jonson or Molier. But don't be put off by that – you are meant to laugh [as their audiences did at their plays] and we hope you will at this one.
The names of the characters indicate their respective types or present 'status' – Fred Midway, Mrs. Midfield [see better days], Bob Freeman and Mr. Makepiece [the gathering of wealth and completing the piece.]
A week or so ago there was a revealing article in the Observer which, if true, makes it clear that the status race is with us for some time to come – in fact large employers of labour appear to welcome and encourage it; it is one of the few stimuli that makes us work now!
You may be surprised and interested to learn that the play was commissioned by the Belgrade Theatre, Coventry and first presented to celebrate the re-opening of Coventry Cathedral and in December 1962 was transferred to the Saville Theatre in London with Sir Laurence Olivier as Fred Midway."