The Barn Theatre, Southwick Community Centre
June 14, 15, 16 & 17, 2017
God of Carnage
by David Hare
Directed by
Dan Dryer
---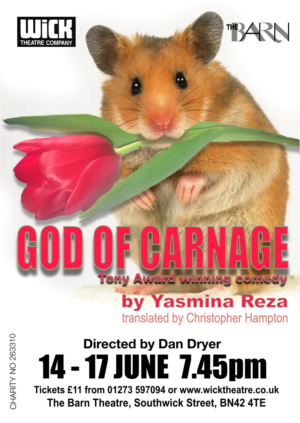 Cast
Sarah Charsley – Veronica Novak
John Garland – Michael Novak
Rose Hall-Smith – Annette Raleigh
Guy Steddon – Alan Raleigh
Production Crew
Stage Manager – David Comber
Deputy Stage Manager – Julian Batstone
Lighting Design – Martin Oakley
Lighting Operation – Julian Batstone
Sound Operation – Emily Hale
Technical Advisor – Martin Oakley
Wardrobe – Maggie Pierce
Wardrobe – Cherry Fraser
Properties – Anita Shipton
Properties – Di Tidzer
Workshop member – David Comber
Workshop member – Dave Collis
Workshop member – Carl Gray
Workshop member – Nigel Goldfinch
Workshop member – Gary Walker
Publicity – Judith Berrill
Publicity – Rosemary Bouchy
Publicity – Peter Joyce
Publicity – Maggi Pierce
Publicity Design – Judith Berrill
Front of House – Tor Dunster
Programme Note #1: God of Carnage
DD wrote: "So what's going on with the chairs?
Often in theatre we see the actors standing on stage at a jaunty angle to the 'fourth wall', never looking behind them and always talking so that their expressions can always be seen.
The danger with this traditional approach is that, for me, there is always an artificial barrier between the audience and the actors.
When you perform in the round there is no 'fourth wall'. Actors stand more naturally and face each other haed on. In the round the audience is drawn into the play in a much more intimate way and as such feel part of the action themselves. You may see someone talking with her back to you and your attention is naturally focused on the other actors listening to them.
Performing in the round lends itself to intimate, realistic setting and as such, Yasmina Reza's play about the dramatic destruction of pretensions of well-to-do liberals is a perfect choice.
I hope you enjoy the evening."