The Barn Theatre, Southwick Community Centre
December 14, 15, 16 & 17 [+mat] 2016
One Man, Two Guvnors
Adaptation by Richard Bean
Directed by
Tony Brownings & Bob Ryder
---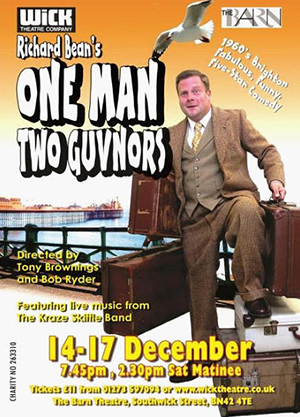 Cast
Mark Best – Francis Henshall
David Peaty – Charlie Clench
Rose Hall-Smith – Pauline Clench
Dan Dryer – Harry Dangle
Maurice Humphreys – Alan Dangle
Anna Steddon – Dolly
John Garland – Lloyd
Charlotte Miller – Rachel Crabbe
Matthew Arnold – Stanley Stubbers
Brian Pitt (aka Bob Ryder) – Alfie
Julian Batstone – Gareth, Passing-by Vicar, Policeman
Peter Joyce – Taxi Driver, Policeman
Anita Shipton – Passing-by Old Lady
Helen Armes – Helen Armes
Production Crew
Stage Manager – Dave Comber
Deputy Stage Manager – Adrian Kenward
Lighting Design – Martin Oakley
Lighting Operator – Martin Oakley
Lighting Operator – Kieran Pollard
Set Concept – Tony Brownings
Wardrobe – Maggi Pierce
Wardrobe – Cherry Fraser
Properties – Anita Shipton
Properties – Di Tidzer
Set Construction – Dave Comber
Set Construction – Dave Collis
Set Construction – Nigel Goldfinch
Set Construction – Carl Gray
Set Construction – Gary Walker
Scenic Painting – Judith Berrill
Scenic Painting – Sue Chaplin
Poster Design – Judith Berrill
Publicity – Peter Joyce
Publicity – Maggi Pierce
Publicity – Rosemary Bouchy
Publicity – Judith Berrill
Front of House – Tor Dunster
The Kraze Band
Phil Jones – Double Bass
Adam Ronchetti – Washboard & Snare
Scott Smith – Banjo, Guitar, Clarinet
Fred Gregory – Electric guitar
Programme Note #1: One Man, Two Guvnors
TB and BR wrote: " The comedy presented in this production goes back a long way. At its heart is a play originally written down more than 250 years ago, by a playwright in Venice who got tired of all his comedians making up their own stuff. He nailed down a great story about a servant who tries to make his way by getting two jobs with two different masters. Then he carefully wrote down all the lines for the comedians, on a very long bit of paper, and he made it very clear what he would do to them if they buggered about with it when they got on stage.
So began the story of best surviving example of the 'Commedia del Arte' tradition of European comedy – usually know along the lines of A Servant of Two Masters. Carlo Goldoni – for it was he who wrote down the play on the long bit of paper – has a lot to answer for. It has gone down through the centuries in many translations and adaptations – some of them very 'free' adaptations.
The most recent – and very free – adaptation is by Richard Bean, a playwright in his own right, who knows a good idea when he nicks one. Forget Venice, forget 1750. We're in Brighton, and it's 1963. And what's more, we're going to pack in even more gags and filth than ever before.
The National Theatre also has an eye on the money these days and it hit the jackpot in 2011 when it opened One Man, Two Guvnors to enormous success. Then off to the West End, then off to Broadway, scooping pay-cheques and prizes all along the way.
We've had a great time working with the splendidly funny script what Richard Bean has created. There are few plays which – if they're done well – are as funny as this one. Let's hope we won't disappoint.
Now. A big welcome to three stage performers making their debut at the Barn – Charlotte Miller, Alan Humphreys [sic] and Rose Hall-Smith are all new to the company, with lots of stuff they can strut. In addition, please offer a warm hand to The Kraze – four talented young men from Shoreham Beach who make up the amazing skiffle band so vital to the show. If you get bored with the daft stuff on stage, just listen to these guys play.
And please, especially at this time of the year, spare a thought for sad old blokes who end up directing stuff like this. We hope you enjoy the show. But even if you don't, please make an effort and look like you are. It keeps us off the streets.
Thank you.