The Barn Theatre, Southwick Community Centre
September 14, 15, 16 & 17, 2016
Accidental Death of an Anarchist
by Dario Fo
Directed by
Dan Dryer
---
2016 BHAC Full Length Drama Competition
– The Mike Padley Award for Best Supporting Actor – Guy Steddon for Pissani
– The Mike Padley Award for Best Supporting Actress – Emily Hale for Superintendent
---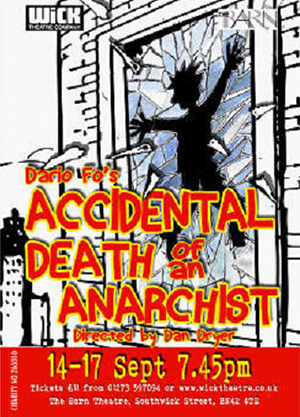 Cast
David Peaty – Bertozzo
Emily Hale – Superintendent
Guy Steddon– Pissani
Jonathan Rich – Constable
Phil Brown – Maniac
Sarah Frost – Felletti
Production Crew
Stage Manager – Dave Comber
Deputy Stage Manager – Julian Batstone
Assistant Stage Manager – John Garland
Lighting Design & Operator – Martin Oakley
Sound Design – Bob Ryder
Sound Operation – Brian Jones
Wardrobe – Maggi Pierce
Wardrobe – Cherry Fraser
Properties & Set Dressing – Anita Shipton
Properties & Set Dressing – Di Tidzer
Set Construction & Painting – Nigel Goldfinch
Set Construction & Painting – Carl Gray
Set Construction & Painting – David Comber
Set Construction & Painting – Dave Collis
Set Construction & Painting – Sue Chaplin
Set Construction & Painting – Sheila Neesham
Set Construction & Painting – Margaret Davy
Set Construction & Painting – Gary Walker
Poster Design – Judith Berrill
Publicity – Peter Joyce
Publicity – Maggi Pierce
Publicity – Rosemary Bouchy
Publicity – Judith Berrill
Front of House – Tor Dunster
Programme Note #1: Accidental Death of an Anarchist
DD wrote: " Accidental Death of an Anarchist is a play with a very precise context, namely in response to a specific event in the turbulent Italy of the late 60s. What relevance if any could this hold for a British audience in 2016?
The overarching themes of the play, that of police brutality and cover-up and a political power at odds with the people resonate widely and indeed the lay has been performed all over the world.
The brilliance of the play is that it turns tragedy into farce and as such audiences find themselves laughing and ten asking themselves why.
I first did a production of this play 24 years ago in the Edinburgh festival. The timing felt right, we had recently had riots in Trafalgar Square over the poll tax, miscarriages of justice for the Birmingham six and the Guildford four. There was outrage at police cover-up and unfairness of the treatment of the poor and as an angry young man in my 20s I found the play had a lot that I could relate to.
Now as a not so angry young man in my 40s I find, unfortunately, this is still the case. "