The Barn Theatre, Southwick Community Centre
June 15, 16, 17 & 18, 2016
No Sex Please, We're British
by Alistair Foot & Anthony Marriott
Directed by
Caroline Woodley
---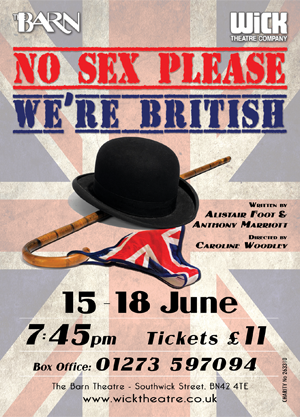 Cast
Matt Mulvay – Peter Hunter
Andrea Jones – Frances Hunter
Pam Luxton – Eleanor Hunter
Mark Best – Brian Runnicles
John Pounder – Leslie Bromhead
Peter Joyce – Superintendent Vernon Paul
John Garland – Mr Needham
Jennie Duval – Susan
Katie Marshall – Barbara
John Garland – Delivery Man
Production Crew
Stage Manager – Dave Comber
Deputy Stage Manager – Julian Batstone
Hatch Operation & Production Assistant – Graham Till
Lighting Design – Martin Oakley
Lighting Operator – Bernadette Ward
Sound Design – Bob Ryder
Sound Operation – Brian Jones
Wardrobe – Maggi Pierce
Wardrobe – Cherry Fraser
Properties & Set Dressing – Anita Shipton
Properties & Set Dressing – Di Tidzer
Set Construction & Painting – Nigel Goldfinch
Set Construction & Painting – Carl Gray
Set Construction & Painting – David Comber
Set Construction & Painting – Dave Collis
Set Construction & Painting – Sue Chaplin
Set Construction & Painting – Sheila Neesham
Set Construction & Painting – Margaret Davy
Set Construction & Painting – Gary Walker
Poster Design – Richard Joyce
Publicity – Peter Joyce
Publicity – Maggi Pierce
Publicity – Rosemary Bouchy
Publicity – Judith Berrill
Front of House – Betty Dawes
Programme Note #1: No Sex Please, We're British
CW wrote: " The best part of directing No Sex Please We're British was that five new members have been recruited for Wick Theatre Comoany! They have come from Brighton, as far afield as Thakenham and three actors have slipped across the carpark from Southwick Opera and kindly agreed not to sing a note!
A huge vote of thanks to all the actors for their time, patience and infectious enthusiasm without which, under some difficult circumstances, this play might not have reached the Barn Stage.
Thanks to all the dedicated workshop and backstage teams who have created a wonderful set.
I hope all their hard work will result in an enjoyable evening for everybody "