The Barn Theatre, Southwick Community Centre
February 6 & 7, 2015
After Juliet
by Sharman McDonald
Directed by
Will McDonald & Mark Best & Isi Fink
---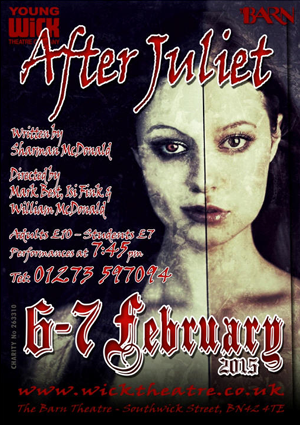 Cast
Lisa Pepper – Rosaline [Juliet's cousin]
Courtney Everett – Alice [Juliet's cousin]
Alice Bennett – Rhona [Juliet's cousin]
Alice Sutton – Bianca [Juliet's cousin]
Amie Sutton – Helena [Bianca's sister]
Claire Harding – Livia [Rosaline's half-sister]
Luke Mepham – Lorenzo [Juliet's cousin]
Josh Perretta – Gianni [Juliet's cousin]
Joe Gibbs – Petruchio [Tybalt's brother]
Holly Rowlands-Hempel – Nurse
Matt Rouse – Benvolio [Romeo's best friend]
Ted Gibbs – Valentine [Mercutio's twin brother]
Production Crew
Production Assistant – Peter Joyce
Stage Manager – Mark Best
Deputy Stage Manager – Terri Challis
Assistant Stage Manager – Isi Fink
Set Design – Will McDonald
Sound Design – Will McDonald
Lighting Design – Martin Oakley
Lighting Operation – Kieran Pollard
Lighting Operation – Hannah Talbot
Sound Operation – Kieran Pollard
Set Construction – Nigel Goldfinch
Set Construction – Carl Gray
Set Painting – Sue Chaplin
Wardrobe – Isi Fink
Wardrobe – Anna Barden
Properties – Isi Fink
Fight Choreographer – Mark Best
Poster Design – Richard Joyce
Publicity – Judith Berrill
Front of House – Betty Dawes
Programme Note #1: After Juliet
WMcD wrote: " Firstly, thank you to everyone who has come along to see the show today. Whether you are here to support your son or daughter, nephew or niece, or grandchild; your attendance is much appreciated. As always with a Young Wick production there have been moments when I wondered if we would ever reach opening night – but, here we are!
This is my last Young Wick show, so I take this opportunity to thank a few people for their support over the past three years. To everybody who gets involved behind the scenes at the Wick – you rock! Whether it is getting involved with the workshop, stage managing, front of house, or producing the company's Newsletter, you give up your time without ego, to help put these shows on and without you Wick would not exist.
Particular thanks go out to John Garland, Peter Joyce, Martin Oakley, Mark Best and Isi Fink, without the various kinds of support you have provided, the last three years would have been a much less successful experience. My thanks are immeasurable.
And to the youth themselves of course! While at times you have driven me slightly crazy [how I wish you had learned your lines earlier!], you are the reason Mark, Isi and I give up our time – so 'thank you' you all for the time and effort you have put in. I wish you all the best in all your future endeavours.
Finally, I must thank Claire Harding for stepping in to the role of Livia, at the last moment.
I hope you all enjoy the production as much as we have enjoyed putting it on!! "