The Barn Theatre, Southwick Community Centre
September 24, 25, 26 & 27, 2014
The Cherry Orchard
by Anton Chekhov
Directed by
Bob Ryder
Script – link
---
250th PRODUCTION
---
2014 BHAC Full Length Drama Competition
– Best Actor : Chris Parke for Lopakhim
– The Mike Padley Award for Best Supporting Actor: Adrian Kenward for Yepikodov
---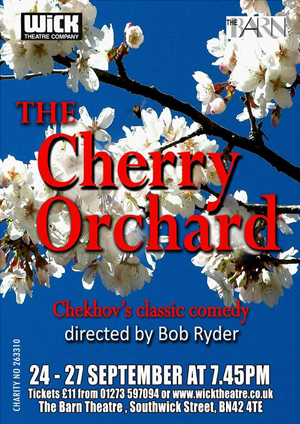 Cast
Hazel Starns – Ranyevskaya [A landowner]
David Peaty – Gaev [Her older brother]
Sophie Lane – Anya [Her younger daughter]
Hanna Liebeskind – Varya [Her adopted daughter]
Judith Berrill – Charlotta [A governess]
Graham Till – Firs [An aged footman]
Sarah Frost – Dunyasha [A housemaid]
Tom Harris – Yasha [A young footman]
Adrian Kenward – Yepikhodov [The estate clerk]
Dan Dryer – Trofimov [A student]
Chris Parke – Lopakhin [A businessman]
David Creedon – Simyon-Pishchik [A local landowner]
Ray Hopper – Passer-By
Paul Checkley – Station-Master
Martin Adley – Ensemble, Servant, Peasant & Guest from the Village
Cherry Briggs – Ensemble, Servant, Peasant & Guest from the Village
Ray Hopper – Ensemble, Servant, Peasant & Guest from the Village
Paul Checkley – Ensemble, Servant, Peasant & Guest from the Village
Production Crew
Stage Manager – Bernadette Lowe
Deputy Stage Manager – Terri Challis
Set & Sound Design – Bob Ryder
Lighting Design – Martin Oakley
Lighting Operation – Martin Oakley
Lighting Operation – John Garland
Sound Operation – Brian Jones
Set Construction – David Comber
Set Construction – Nigel Goldfinch
Set Construction – Gary Walker
Set Construction – Carl Gray
Set Construction – David Collis
Set Painting – Sue Chaplin
Set Painting – Mike Davy
Set Painting – Sheila Neesham
Wardrobe – Cherry Briggs
Wardrobe – Margaret Pierce
Wardrobe – Caroline Woodley
Properties Coordinator – Judith Berrill
Dance Captain – Sarah Frost
Choreography Assistant – Nikki Dunsford
Poster Design – Judith Berrill
Publicity – Anna Quick
Publicity – Rosemary Bouchy
Publicity – Lucien Bouchy
Publicity – Martin Oakley
Publicity – Sue Chaplin
Front of House – Betty Dawes
Programme Note #1: Cherry Orchard
BR wrote: " 'Life is just a Bowl of Cherries' – A director's view
The Cherry Orchard has haunted me for years. The first production I saw was 25 years ago, directed by a shockingly young Sam Mendes and with a cast that wasn't half bad [it included Judi Dench, for example]. I've seen many more productions since, but these days more and more strictly rationed. The best I've seen in recent years was the astonishing Before I Sleep at the old Co-op store in London Road in 2010 – and that wasn't actually the Cherry Orchard anyway, but a whole magical experience inspired by the essence of the play. It was clear proof, if proof were needed, that The Cherry Orchard is one of those rare creations that's vastly bigger than the play itself.
Which is why, I suppose, in recent years it's the text that's haunted me. Every couple of years or so, I treat myself to reading it once again [usually in the excellent translation by Michael Frayn]. Perhaps I should get out more. But I really do find that revisiting the world of these characters, their humanity and their off-the-wall emotions, is like a holiday. And I never fail to be surprised and delighted by the countless daring touches Chekhov uses to paint these bizarre characters and the strange place they inhabit.
So on a personal level I feel very honoured to have been invited to direct The Cherry Orchard in the Barn – and I couldn't think of a better play to mark a special occasion like the '250th'. On top of that, I've been given the opportunity to produce a new English acting text of the play for use in this production. It was fun to do, but it has given me an even stronger focus on how to shape the staging and performance, I hope it doesn't disappoint.
It' been a fantastic journey working with such talented and motivated cast and production team. Wick Theatre Company has an enviable range of experience which has grown and deepened over time. Of course, nothing can be taken for granted. Every new production must be created – and judged – on its own terms; and 'the value of your theatrical assets may go down as well as up'. But there's every reason to hope that Wick will still be firing on all cylinders in 250 shows' time! "
Programme Note #2: Cherry Orchard
Martin Adley [Ensemble] is making his long-overdue debut with Wick Theatre Company at the Barn, bringing a dash of sparkle to the dance troupe and general ensemble rôles.
Judith Berrill [Charlotta] joined Wick 25 years ago and this is her 50th acting appearance at the Barn. Her 'rôles of honour' include Hedda Gabler, Lady Macbeth, Olivia [Twelfth Night], Titania [MND], Lady Croom [Arcadia], La Marquise de Merteuil [Liaisons] and Dotty Otley [Noises Off].
Paul Checkley [Station-master] has previously appeared for Wick as the Judge [Harvey] and the Colonel [Murdered to Death] while juggling stints in the set building department.
David Creedon [Simyon-Pishchik] is approaching his golden anniversary with Wick and this performance is his 50th acting production, during which time he has never knowingly been upstaged! Just a few of the more recent highlights include Malvolio [Twelfth Night], Bernard [Arcadia], George III [The Madness of George III], Sir [The Dresser] and Uncle Ben in last year's Death of a Salesman.
Dan Dryer [Trofimov] made a notable Wick debut last year as Bernard [Death of a Salesman] and he has also appeared in this year's productions of Life & Beth and Funny Money.
Cherry Fraser [Ensemble] has been a key member of Wick's technical team since 2000, particularly in the wardrobe department. She has finally been coaxed into a stage debut for our 250th production!
Sarah Frost [Dunyasha] joined Wick in 2008 to play an unusual 'double' [Murderer and Prince] in Richard III. She has also appeared in Vagina Monologues and last year's Death of a Salesman.
Tom Harris [Yasha] first joined the Young Wick group nearly 10 years ago and has acted regularly in the 'senior' productions since 2008. Recent highlights include Rosencrantz [Rosencrantz & Guildenstern are Dead] and Claudio [Much Ado about Nothing].
Ray Hopper [Passer-by] has been an active Wick member since the mid-1950s, which is almost longer than he can remember! His list of acting roles at the Barn is immense, but another notable outing was as the director of The Happiest Days of Your Life in 2007 – exactly 50 years after he appeared as a young actor in Wick's original production of that show in 1957.
Sophie Lane [Anya] is a leading 'graduate' from Young Wick, which she joined in 2005. Among her recent acting roles are Brooke [Noises Off], Hero [Much Ado] and all the female roles in this year's smash-hit, The 39 Steps!
Adrian Kenward [Yepikhodov] first acted with Wick as Mozart [Amadeus] in 1991 – a role which he reprised at last year's Arundel Festival! A wide variety of other roles in between includes Tristan Tzara [Travesties], Flute and Moth [MND] and Richard Rich [A Man for All Seasons].
Hannah Liebeskind [Varya] is making her debut with Wick in this production. Her previous theatre work locally includes acting and running production management at NVT in Brighton, and most recently she appeared in The Crucible in this year's Brighton Fringe.
Chris Parke [Lopakhin] is making his debut with Wick, but has previously appeared at the Barn with Southwick Opera, most recently in the title role in Verdi's Macbeth. He acts with Lewes Little Theatre and Players in the Park, as well as working as a concert soloist.
David Peaty [Gaev] started out with Wick in 1970 as the Little Monk in Becket. After a long 'career break' he returned in 2004 to act in the premiere production of Nick Young's Ciphers, followed by the crazy challenge of Wick's first venture into 'rep' theatre [As You Like It alongside Blue Remembered Hills]. Most recently he has acted key roles in Calendar Girls, The Waltz of the Toreadors and Life & Beth.
Hazel Starns [Ranyevskaya] first strutted her stuff for Wick 20 years ago as a Hot-Box Girl [Guys and Dolls] then became a friend of Dorothy as the Good Witch [The Wizard of Oz]. On her inevitable march to the cherry orchard she has performed in, among other things, four of Wick's Shakespeare productions. Hazel's most recent roles include Sue [Abigail's Party], Laura [Don't Look Now], Annie [Calendar Girls] and Beth [Life & Beth].
Graham Till [Firs] joined Wick in 2012, when he played Leonato [Much Ado] and the Narrator [The Snow Queen]. He played the lead as the General in last year's The Waltz of the Toreadors and made a powerful directing debut at the Barn with Death of a Salesman.