The Barn Theatre, Southwick Community Centre
October 10, 11, 12 & 13, 2007
The Memory of Water
by Shelagh Stephenson
Directed by
Patricia Lyne
---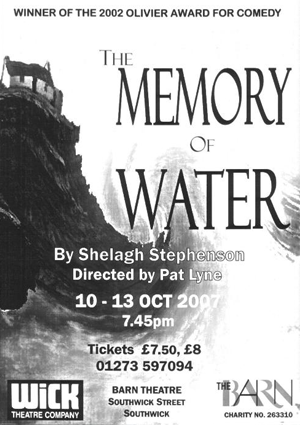 Cast
Sheelagh Baker – Vi
Katie Brownings – Mary
Judith Berrill – Teresa
Lyn Fernee – Catherine
David Peaty – Mike
Bob Ryder – Frank
Production Crew
Stage Manager – David Comber
Stage Manager – Richard Bulling
Technical Stage Manager – Helen Brewster
ASM – Olive Smith
Sound Operator – Jonathon Weldon
Lighting Design – Mike Medway
Lighting Technician – Philip Oliver
Props – Sue Whittaker
Props – Margaret Davy
Wardrobe – Cherry Briggs
Wardrobe – Margaret Pierce
Workshop Team – David Comber
Workshop Team – David Collis
Workshop Team – Richard Bulling
Workshop Team – Philip Oliver
Workshop Team – Mark Flower
Painters – Sue Chaplin
Painters – Margaret Davy
Painters – Sheila Neesham
Publicity – Rosemary Bouchy
Publicity – Rosemary Brown
Publicity – Anna Barden
Production Photos – Lucien Bouchy
Front of House – Betty Dawes
Box Office – Mark Flower
Programme Note #1: The Memory of Water
The programme carried the following: "Shelagh Stephenson had a successful run of radio plays before her first major stage play, The Memory of Water, in 1996. It subsequently won the Oliver Award for Best Comedy [2002] and was then filmed as Before You Go [2002]. Her follow-up successes include An Experiment with an Air Pump [1998], Ancient Lights [2000] and Mappa Mundi [2002].
The Memory of Water is an absorbing play on many levels, with strong characterisation and sharply observed relationships – and an ability to blend lyrical sadness with wry comedy. An enjoyable running theme is the power which memory has to shape our feelings and our lives – but also the puzzle of how unreliable memory is, with different people remembering the same event in entirely different ways.
Pat Lyne has previously directed the highly praised Wick productions of The Dresser [2003], Blue Remembered Hills [2004], Anorak of Fire [2005] and Jeffrey Bernard is Unwell" [2006].