The Barn Theatre, Southwick Community Centre
October 5, 6, 7 & 8, 2005
The Dumb Waiter
by Harold Pinter
Directed by
Richard Ratcliffe
---
Anorak of Fire
by Stephen Dinsdale
Directed by
Patricia Lyne
---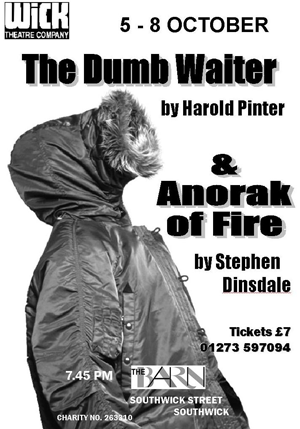 Cast – The Dumb Waiter

Ryan Lainchbury – Gus
Mark Best – Ben

Cast – Anorak of Fire
John Griffiths – Gus Gascoigne
Production Crew
Lighting – Mike Medway
Sound – Ian Healey
Stage Manager – David Comber
Stage Manager – Geoff Holme
Stage Manager – Tony Holmes
DSM – John Garland
DSM – Tony Brownings
ASM – Helen Brewster
ASM – Loren O'Dair
ASM – Olive Smith
Workshop Team – Sylvie Walder
Workshop Team – Nicki Moston
Workshop Team – Sheila Neesham
Workshop Team – Geoff Holme
Workshop Team – Tony Holmes
Workshop Team – David Comber
Workshop Team – Mike Davy
Workshop Team – Robert Mitchell
Publicity – Rosemary Bouchy
Publicity – Rosemary Brown
Publicity – Simon Druce
Front of House – Betty Dawes
Box Office – Margaret Murrell

Note to Committee
In September 2005 the committee were informed of the following by Bob Ryder – theatre co-ordinator.
"A year ago, when we fixed the 2005 programme, we settled on the great Arthur Miller classic Death of a Salesman for our peak early autumn slot. Unfortunately, Mr Miller passed away in the spring – at a wonderfully ripe old age of 90 – with the result that several professional companies rushed to do revival productions and we lost the amateur performance rights.
We then did some fancy footwork to substitute another heavyweight quality drama, John Osbourne's The Entertainer – safe in the knowledge that the rancorous Mr Osborne had already passed-on some years ago. Unfortunately, though, our cast was hit with some unavoidable problem late in the rehearsal run, and we simply weren't able to regroup with new actors in the time available. Nor was there enough time left to try to mount a different full-length production.
But now the good news; two members of The Entertainer cast, Mark Best and Ryan Lainchbury are now quickly perfecting a production of Harold Pinter's glorious one-act play, The Dumb Waiter.
And The Entertainer director, Pat Lynne, is working with John Griffiths on a very enjoyable one-man, one-act play, Anorak of Fire – hard to describe, but try to imagine Shirley Valentine as a male train-spotter!"
Programme Note #1: The Dumb Waiter & Anorak of Fire
"The Dumb Waiter is one of Harold Pinter's earliest plays, written in 1957 though not performed in public until 1960. It is one of the works that firmly established Pinter's reputation for a new and highly individual style of drama.
Anorak of Fire was first presented at the Edinburgh Fringe in 1993. It had an immediate popular success and has since been played widely in small theatres across Britain, with several revivals at the Fringe too.
We welcome three new [or relatively new] Wick actors in the production. John Griffiths is making his Barn début in Anorak of Fire. Mark Best and Ray Lainchbury [in the Dumb Waiter] first appeared in The Accrington Pals, and Mark has been seen more recently in Blue Remembered Hills. They have been closely involved in the development of the Young Wick section of the company.
We also welcome the involvement in this production of several new members who have joined the company in the last few months, in various rôles in the backstage, workshop and Front of House teams."