The Barn Theatre, Southwick Community Centre
April 5, 6, 7 & 8, 2000
Son of Man
by Dennis Potter
Directed by
Derek Fraser
---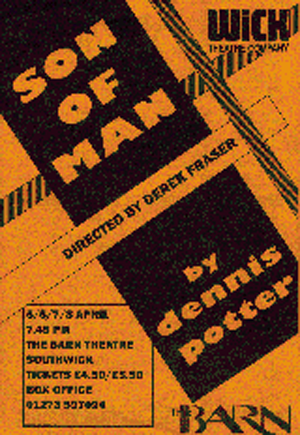 Cast
Bob Ryder – Jesus
Adrian Kenward – Agitator
Alistair Reed – Centurion
David Goodger – Pilate
John Robinson – Commander
Joanna Hopper – Ruth
Dennis Evans – Caiaphas
John Garland – Peter
Simon Druce – Andrew
Peter Thompson – James
Kevin Isaac – John
Peter Milner – First Priest
Diane Robinson – Second Priest
Hazel Starns – Procla [Pilate's wife]
Rols Ham-Riche – Judas
Jasper Astle – Money-Changer
Margaret Ockenden – Heckler & Onlooker
Michelle Wragg – Heckler & Onlooker
Production Crew
Stage Manager – David Comber
ASM – Jean Porter
Lighting – Mike Medway
Sound – Simon Snelling
Set Construction – David Comber
Set Construction – Dave Collis
Set Construction – Brian Box
Set Construction – Mike Davy
Set Construction – Marc Lewis
Set Painting – Frances Thorne
Set Painting – Sheila Neesham
Properties – Margaret Davy
Properties – Sue Whittaker
Costumes – Frances Moulton
Sound Recording – Greg Starns
Music – Katalin Szeless
Press & Publicity – Rosemary Bouchy
Press & Publicity – Frances Thorne
Press & Publicity – Rosemary Brown
Design & Graphics – Judith Berrill
Box Office – Margaret Murrell
Front of House Manager – Brian Moulton
Programme Note #1: Son of Man
A large part of the last 2000 years has been based on the life, death and teachings of Jesus of Nazareth. At the start of another Millennium Son of Man looks at the man Jesus through the eyes of an original and successful playwright of the late 20th Century.
Dennis Potter has also been called controversial. In Son of Man he portrays a very Roman Jesus, with all His doubts and frailties as much, if not more than, His divinity. The title Son of Man [rather than Son of God] suggests this.
Son of Man is in no way sacrilegious, but there is no cut and dried certainty as to the divinity of Jesus. Like all god plays we are left to judge for ourselves. Son of Man was first presented on TV in 1969. The ending was ambiguous but the stage version ends on a triumphant note. It is a powerful and challenging piece of theatre, worthy of Wick.
DF wrote: "This play has been brought to the Barn stage through the effort and commitment of a great many people. I am indebted to them all – not only the large and enthusiastic cast, which includes several actors new to the Barn, but also the many other dedicated Wick members who have made this production possible. I hope that you will find Son of Man thought-provoking, as well as an absorbing piece of theatre."