The Barn Theatre, Southwick Community Centre
June 23, 24, 25 & 26, 1999
Godspell
Conceived & Originally Directed by John-Michael Tebelak
Music & New Lyrics by Stephen Schwartz
Directed by
Betty Dawes
---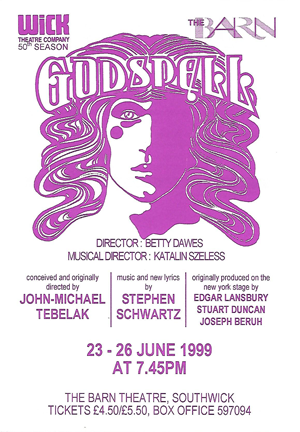 Cast
Antony Muzzall – Jesus
Adrian Kenward – John the Baptist / Judas
with

Band
Keyboards – Katalin Szeless, Andrew Stewart
Bass & Acoustic Guitar – Bob Ryder
Percussion – Jonathan Dawes

Production Crew
Musical Director – Katalin Szeless
Choreographer – Trudy Nash
Designer – Amanda Evans
Lighting – Ralph Dawes
Stage Manager – Dave Collis
Set Construction & Painting – Brian Box
Set Construction & Painting – Dave Collis
Set Construction & Painting – Dave Comber
Set Construction & Painting – Mike Davy
Set Construction & Painting – Mark Flower
Set Construction & Painting – Sheila Neesham
Set Construction & Painting – Frances Thorne
Properties – Margaret Davy
Properties – Sue Whittaker
Sound – Dave Hill
Sound – Frank Child
Sound – Greg Starns
ASM – Joan Bearman
Front of House Manager – Mark Flower
Press & Publicity – Rosemary Bouchy
Press & Publicity – Judith Berrill
Press & Publicity – Rosemary Brown
Press & Publicity – Frances Thorne
Box Office – Margaret Murrell

Programme Note #1: Godspell
BD wrote "Ever since I directed Godspell in St. Michael's and All Angels Church for the Council of Churches over a decade ago, I have wanted to present it again. That production was enormously exciting and successful.
As the founder member of Wick, there couldn't have been a better time for me to do it and I am absolutely delighted to have the opportunity of directing Godspell as the final production in our wonderful 50th Season.
We have had a lot of pleasure preparing the show for you and I hope you enjoy the show with us and see why it holds such a special place in my heart.
Thank you very much for your continued support of the Wick shows which is very much appreciated and we look forward to entertaining you over the next 50 years."