The Barn Theatre, Southwick Community Centre
December 4, 5, 6 & 7, 1996
A Midsummer Night's Dream
by William Shakespeare
Directed by
Bob Ryder
---
1996 BHAC Full Length Drama Competition
– Best Stage Setting Award
– Merit Award : Cara Jennings for her all round performance as Hermia
---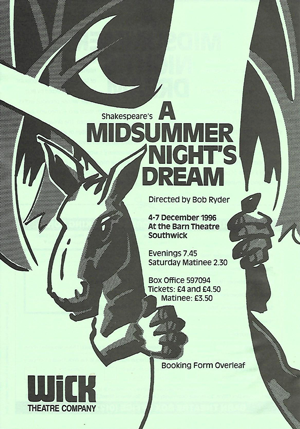 Philip Balding – Theseus [Ruler of a world called 'Athens']
Judith Berrill – Hippolyta [His chosen partner]
David Creedon – Philostrate [His assistant]
David Goodger – Egeus [A senior figure]
Cara Jennings – Hermia [Daughter of Egeus]
Jenny Brown – Helena [Best friend of Hermia]
John Garland – Lysander [In love with Hermia]
Peter Winstone – Demetrius [Formerly in love with Helena, now pursuing Hermia]
The World of Work and Play
David Goodger – Peter Quince
[A foreman in the world of work and also in the world of amateur dramatics; a carpenter by day and a writer and director of plays by night]
John Barham – Nick Bottom [A weaver and leading light of Quince's drama group, which also includes…]
Mike Medway – Tom Snout [A tinker]
Peter Thompson – Robin Starveling [A tailor]
Adrian Kenward – Francis Flute [A bellows-mender]
Nick Ryder – Snug [A joiner]
The Spirit World
Philip Balding – Oberon [Ruler of the magic forest]
Judith Berrill – Titania [His partner in rule]
David Creedon – Puck [His wayward assistant]
Mike Medway – Peaseblossom [Hapless helper of Titania]
Nick Ryder – Cobweb [Hapless helper of Titania]
Adrian Kenward – Moth [Hapless helper of Titania]
Peter Thompson – Mustardseed [Hapless helper of Titania]
The Transcendental World
John Barham – Maharishi [A mystic passer-through of worlds]
Hazel Starns – Girl [A visionary presence in all worlds and none]
Production Crew
Lighting – Trevor Langley
Sound – Julian Seamer
Stage Management – Dave Comber
Stage Management – Frances Thorne
Set Management – Dave Comber
Construction – Brian Box
Construction – Dave Collis
Construction – Mike Davy
Construction – Ralph Dawes
Construction – Mark Flower
Painter – Frances Thorne
Painter – Sheila Neesham
Props – Margaret Davy
Props – Sue Whittaker
Wardrobe Coordination – Margaret Faggetter
Wardrobe Coordination – Judith Berrill
Text work with cast – Patrick Johnson
Text work with cast – Jean Porter
Text work with cast – Derek Fraser
Text work with cast – Grace Otman
Choreography – Jane Porter
Photography – Colin Gurden
Photography – George Laye
Publicity – Judith Williamson
Box Office – Mark Flower
F.O.H Manager – Mark Flower
Programme Note #1: A Midsummer Night's Dream
The spoken text in the production follows closely the First Quarto edition of the play [published in 1600] with some commonly accepted emendations. About 60 lines have been cut. All of the music accompanying the production is by the Beatles, from the years 1966 to 1968. Extra vocal backing arranged by Bob Ryder, performed by Nick Ryder and produced by Greg Starns.
Programme Note #2: A Midsummer Night's Dream
Philip Balding joined |Wick in 1991. Shakespeare rôles at the Barn have been Orsino [Twelfth Night] and Mercution [Romeo & Juliet]. Last appeared as Jerome in Ayckbourn's Henceforward.
Judith Berrill now in her 15th Wick production, including Shakespeare rôles of Olivia [Twelfth Night] and Lady Capulet [R&J]. Other highlights include Hedda [Hedda Gabler] and the Marquise de Merteuill [Les Liaisons Dangereuses].
David Creedon made his debut with Wick back in the swinging ' 60s. Shakespeare rôles have been Malvolio [Twelfth Night] and Friar Lawrence [R&J]. Other recent work includes Tesman [Hedda Gabler] and James Joyce [Travesties].
David Goodger is making a welcome return to Wick after nearly 30 years, when he first played alongside David Creedon in A Man for All Seasons.
Cara Jennings is appearing for the first time at the Barn. Elsewhere this year, she has already played Juliet [R&J] in two productions!
Jenny Brown returns to the Barn stage after three years. Earlier productions for Wick include Little Women and Steel Magnolias.
John Garland is now in his fifth rôle for Wick, after his debut as Benvolio [R&J]. Last appearance was as Faulkland in The Rivals.
Peter Winstone first appeared for Wick as Peter [and many other characters] in R&J. Most recently played Danceny in [Les Liaisons Dangereuses].
John Barham has played a wide range of characters for Wick over 10 years, including Shakespeare's Toby Belch [Twelfth Night] and Capulet [R&J]. Most recent rôle was Van Helsing in Liz Lochhead's Dracula.
Mike Medway is appearing in his first acting rôle for Wick. He was stage manager for The Rivals earlier this year.
Peter Thompson is another new actor for Wick this year, having made his debut as Mervyn in our last production Henceforward.
Adrian Kenward first acted for Wick as Mozart [Amadeus]. Later played Tristan Tzara [Travesties] and this year appeared as Quincy [Dracula].
Nick Ryder made his first Wick appearance as Fabian [Twelfth Night]. He has been the MD for our last two musical shows [Wizard of Oz and Plotters]
Hazel Starns had her first brush with the magic kingdom as the Good Witch in Wizard. After playing the androgynous boy, Furbelow, in [Twelfth Night], she returns to take on another 'extra-textual' adventure as a visionary blind girl in The Dream.
Bob Ryder has produced one show a year for Wick since 1991 – previously Habeas Chorus, A Chorus of Disapproval, Hedda Gabler, [in his own translation], Twelfth Night and Romeo and Juliet. His work as an actor for us includes Salieri [Amadeus], Henry Carr [Travesties] and Valmont [Les Liaisons Dangereuses]. He coordinated the recently successful bid for National Lottery funds to enlarge and improve the Barn and other facilities for arts and crafts work here in Southwick.