The Barn Theatre, Southwick Community Centre
September 11, 12, 13 & 14, 1996
Henceforward
by Alan Ayckbourn
Directed by
Charles Porter
---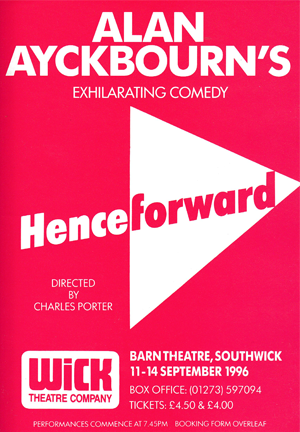 Cast
Phil Balding – Jerome
Kevin Isaac – Lupus
Claire Wiggins – Zoë
Lucy Hall – Geain [aged nine]
Rebecca Faggetter – Geain [aged thriteen]
Heather Richards – Corinna
Peter Thompson – Mervyn
Production Crew
Director's Assistant – Pat Johnson
Stage Manager – Dave Collis
Stage Manager – Dave Comber
Technical Co-ordinator – Greg Starns
Lighting – Trevor Langley
Video Production – Dave Cordon
Set Construction – Dave Comber
Continuity – Judith Berrill
Wardrobe – Margaret Faggetter
Properties – Margaret Davy
Properties – Sue Whittaker
Wigs – Frances Moulton
Publicity – Judith Williamson
Publicity & Theatre Photographs – George Laye
Box Office – Mark Flower
F.O.H. Manager – Brian Moulton
Foyer Flowers – Audrey Laye
Programme Note #1: Henceforward
CP wrote: "I first saw Henceforward at the Theatre Royal in Brighton, prior to the show opening in London's West End in 1988. The presence of Ian McKellen and Jane Asher in the cast was a glowing tribute to the fact that Alan Ayckbourn has, in Henceforward, created a brilliantly constructed, beautifully observed and thoroughly original piece of theatre.
Like many of his more recent plays Henceforward has its dark side, but the blacker it gets, the funnier it becomes – even bordering on farce at one point! The observations on society, human nature and love are as relevant today as Ayckbourn suggests they are in the future, and less than ten years since it was written, some aspects of the bleak 21st Century London are not too far removed from current reality.
The technical challenges of mounting Henceforward are far greater than usual and I am indebted to Greg Starns and his team for their work with technology that certainly baffles me! Pat Johnson has also given tremendous support to myself and all the performers on the artistic side and is one of Wick's unsung heroes.
I hope you enjoy Henceforward and will come and visit us again at the Barn soon"
Programme Note #2: Henceforward
The Programme carried this piece about the Director, Charles Porter.
Charles first walked the stage at 11 years of age as a sweep in My Fair Lady in 1974. Although always interested in the theatre he did not undertake serious acting parts until the 1990s when he played in Habeus Corpus, Guys and Dolls, A Chorus of Disapproval, and, in 1995, The Plotters of Cabbage Patch Corner.
His interest in directing started with Tom Stoppard's 15 minute Hamlet and progressed to his co-direction of the award-winning Travesties in 1994. His enthusiasm for the theatre has led him to organise coach trips to the National Theatre in London to see Wind in the Willows and other famous plays – for the benefit of the Community Centre and Wick Theatre Company members.
We regret that Charles and Jane are moving on promotion to Northampton but we are sure his love of Southwick and the Centre will remain.
---