The Barn Theatre, Southwick Community Centre
June 12, 13, 14 & 15, 1996
The Rivals
by Richard Brinsley Sheriden
Directed by
Paddy Hartley
---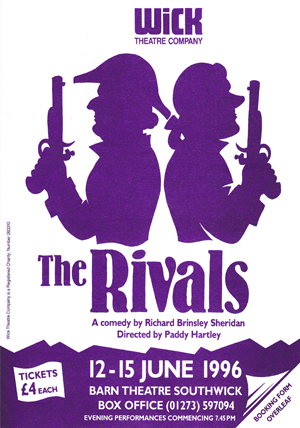 Cast
Ralph Dawes – Coachman
Derek Fraser – Fag
Judith Berrill – Lucy
Jane Porter – Lydia
Jane Richards – Julia
Joan Braddock – Mrs Malaprop
Peter McGhie – Sir Anthony Absolute
Jeff Ashby – Captain Absolute
John Garland – Faulkland
Bob Ryder – Acres
David Creedon – Sir Lucius O'Trigger
Luke Chatterton – Boy
George Illman – David
Anna Barden – Maid
Production Crew
Stage Manager – Mike Medway
Assistant Stage Manager – Jenny Brown
Set Design, Construction & Painting – Brian Box
Set Design, Construction & Painting – Dave Collis
Set Design, Construction & Painting – Dave Comber
Set Design, Construction & Painting – Michael Davy
Set Design, Construction & Painting – Ralph Dawes
Set Design, Construction & Painting – Mark Flower
Set Design, Construction & Painting – Sheila Neesham
Lighting & Sound – Frances Thorne
Continuity – Jean Porter
Wardrobe – Frances Moulton
Wigs – Chris Horlock
Properties – Sue Whittaker
Properties – Joan Bearman
Publicity – Judith Williamson
Publicity & Theatre Photographs – George Laye
Front of House Manager – Betty Dawes
Box Office – Margaret Murrell
Programme Note #1: The Rivals
PH wrote: "I first became a fan of Sheriden when I took the rôle of Julia in a school production. The Rivals was originally performed at Covent Garden on 17th January 1775. Two years ago it played to packed houses at Chichester. I wonder how many of our 'modern' plays will last as long! I wish some script writer's could take a lesson from this master of the English language."
Programme Note #2: The Rivals
The Rivals was Sheriden's first play written when he was just 23. He was then leading a hand-to-mouth existence, having eloped the year before with a young singer he had just met while he was a law student in Bath. Disinherited by his father and pursued by previous rivals for his young wife's favours [with whom he fought two duels] he set about writing the play in the hope of making several hundred pounds. Helped by the fact that he knew the manager of the Covent Garden Theatre, he struck lucky – The Rivals opened there in January 1775.
Initially, however, the play was not well received. It was too long, the characters were thought to be unsympathetic, and some of the plot and the dialogue were felt to be too saucy for the priggish theatre audiences of the day. Sheriden set to work again, rewriting and editing the script. When the play reopened 10 days later, it was a sure success – and has stayed in the popular repertoire for over 200 years.
The Rivals set Sheriden on track for a successful career. He followed up with several more plays, including the classic School for Scandal in 1777. Soon afterwards, however, he largely deserted playwriting for politics, holding a seat in Parliament for a succession of rotten boroughs and rising to prominence in the Whig opposition to George lll's government. His decline was a sad one, losing his place as an MP and his investments [when Drury Lane Theatre burnt down]. Richard Brinsley Sheriden died in 1814, a chronic alcoholic and heavily in debt. His legacy, however, lives on in his two joyful celebrations pf comic theatre – The School for Scandal which Wick Theatre Company performed to great acclaim way back in 1969, and The Rivals which we are delighted to present to you now.
---