The Barn Theatre, Southwick Community Centre
December 28, 29 [+ mat], 30 [+ mat], 31 [+ mat] 1995 – January 01 [+mat] 1996
The Plotters of Cabbage Patch Corner
by David Wood
Directed by
Ray Hopper
---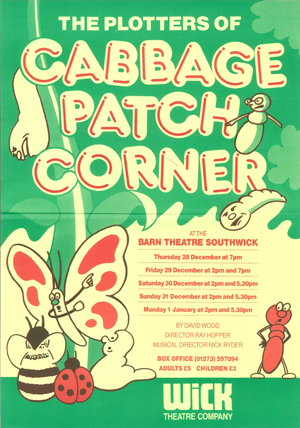 Cast
Derek Fraser – Glow Worm
Beth Bryant – Ladybird
Jane Porter – Ant
John Garland – Slug
Charles Porter – Red Admiral
Katalin Szeless – Greenfly
Joanna Chalk – Maggot
Rebecca Faggetter – Bumble Bee
Joan Braddock – The Great Mushroom
Joan Bearman – Spider
Ralph Dawes – The Big Ones [Voices off]
Betty Dawes – The Big Ones [Voices off]
Production Crew
Musical Director – Nick Ryder
Guitar – Bob Ryder
Stage Manager – Dave Comber
Assistant Stage Manager – Dave Collis
Lighting & Sound – Andy Chalk
Lighting & Sound – Martin Bryant [instructed by Patrick Roberts]
Properties – Margaret Davy
Properties – Sue Whittaker
Stage Management Team – Brian Box
Stage Management Team – David Comber
Stage Management Team – Dave Collis
Stage Management Team – Michael Davy
Set Construction & Painting – Ralph Dawes
Set Construction & Painting – Mark Flower
Set Construction & Painting – Sheila Neesham
Set Construction & Painting – Frances Thorne
Costumes & Character Design – Judith Berrill
Costumes & Character Design – Margaret Faggetter
Publicity – Judith Williamson
Theatre & Publicity Photographs – George Laye
Front of House Manager – Frank Child
Box Office – Anna Barden
Programme Note #1: The Plotters of Cabbage Patch Corner
RH wrote: "I first met the author, David Wood, at the end of the fifties, when we were both members of the West Sussex Youth Theatre. His talents as an actor / musician / performer were obvious then, and it was no surprise to see his rise to success at Oxford in the Burton / Taylor production of Dr Faustus continuing with his leading rôle in Lindsay Anderson's film If. He was also a nominee for the Plays and Players Newcomers Award.
As an aside to this, we appeared together at the Barn Theatre, in 1961 – I think, in a revue which I produced and I seem to remember that I never paid him his 2/6d train fare expenses. Perhaps this production might ease that debt, although I have kept a spare half-crown by – just in case!
However, I was not aware of his writing talents until much later, when taking my delighted daughters to see most of his Christmas plays for children, which enjoyed great popularity in the seventies.
It was of course my eldest daughter Jo [out very own Maggot!], who persuaded me to direct for the Wick again after many years absence. And what fun it's been! How delightful to work on a play that appeals to those of us who think Winnie the Pooh and The Railway Children are the height of English literature.
I do hope we are able to convey to you our delight in the charm, innocence and humour of this ideal Christmas treat for our children, and … their grandparents!"
Programme Note #2: The Plotters of Cabbage Patch Corner
Ray and David Wood corresponded ahead of this production and David sent this message: December 1995
"I was delighted to hear that the Wick Theatre Company had decided to present Plotters. Of my 40 or so musical plays for children, Plotters has a special relevance. It was my first 'original' play as opposed to an adaptation from a well-known children's book, and as such taught me a lot about storytelling as well as the craft of playwriting!
The play was commissioned by The Swan Theatre, Worcester. Alison Steadman, who had only recently left drama school, played Greenfly, and the play was directed by Mick Hughes, who later became [as he still is ] one of the country's top theatre lighting designers. The premiere in 1970 was followed by a London production at the Shaw Theatre in 1971. Jonathan Lynn, later to write Yes, Minister for television directed splendidly and Julia McKenzie played Ladybird. Intriguingly, 'Whispering' Paul McDowell, the original singer with the Temperance seven, played the Great Mushroom!
I'm happy to say that the play has been in the amateur and professional repertoire ever since. It's 'green' theme helped it take off in Germany in the late eighties. And a recent professional production at Leeds Playhouse was hailed as a 'splendidly topical new play' by a young reporter on the local paper! Needless to say I was delighted!
Delighted, too, that Ray Hopper, with whom I shared many happy times on youth drama courses in Sussex, is directing this production. I wish him and his Company and audiences all the very best – 'may your garden grow' "