The Barn Theatre, Southwick Community Centre
October 4, 5, 6 & 7, 1995
Les Liaisons Dangereuses
by Choderlos de Laclos – adapted by Christopher Hampton
Directed by
Margaret Ockenden
---
1995 BHAC Full Length Drama Competition
– Bea Waters Challenge Cup for Best Overall Production
– Adjudicator's Certificate : to Bob Ryder for an outstanding and sustained performance
---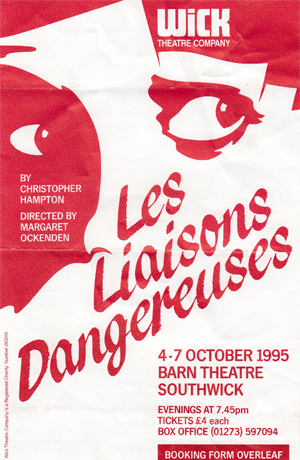 Cast
Judith Berrill – La Marquise de Merteuil
Margaret Faggetter – Mme. de Volanges
Tanja McGhie – Cécile Volanges
George Illman – Majordomo
Bob Ryder – Le Vicomte de Valmont
Kevin Isaac – Azolan
Jean Porter – Mme. de Rosemonde
Claire Wiggins – La Présidente de Tourval
Jane Porter – Émilie
Peter Winstone – Le Chevalier Danceny
Andrew Bailey – Footman
Production Crew
Director's Assistant – Patrick Johnson
Stage Manager – Dave Comber
Assistant Stage Manager – Joan Bearman
Lighting – Trevor Langley
Sound – Frances Thorne

Properties – Margaret Davy
Properties – Sue Whittaker
Set Design & Decor – Judith Berrill
Set Construction & Painting – Brian Box
Set Construction & Painting – Dave Collis
Set Construction & Painting – Dave Comber
Set Construction & Painting – Michael Davy
Set Construction & Painting – Ralph Dawes
Set Construction & Painting – Mark Flower
Set Construction & Painting – Sheila Neesham
Set Construction & Painting – Frances Thorne
Wigs – Chris Horlock
Wigs – Frances Moulton
Fight arrangement – Roy Goodall
Publicity – Judith Williamson
Publicity & Theatre Photographs – George Laye
Front of House Manager – Mark Flower
Box Office – Anna Barden
Programme Note #1: Les Liaisons Dangereuses
MO wrote: "The book by Choderlos de Laclos, Les Liaisons Dangereuses shocked eighteenth century France, so much so that the first edition sold out in a few days. Mothers would give the volume to their daughters to read on the eve of their wedding. A bound copy, suitably disguised, was found in the library of Marie Antoinette.
The critics were uneasy, as they consider that immorality was presented persuasively and appeared to be attractive. This brilliant adaptation of the book is true to the text, and I wonder whether those same critics would have revised their opinion had they seen Christopher Hampton's play.
It has been a great pleasure to work with such a script and with so dedicated a team, both on and off the stage. You could spend the evening working out how many 'Dangerous Liaisons' there are, but I would advise you just to relax and enjoy the play."
Programme Note #2: Les Liaisons Dangereuses
The Director: "Margaret Ockenden, a long-time Wick member, has appeared many times on the Barn Stage, playing such varied rôles as Gloria in Shaw's You Never Can Tell, the Wicked Witch of the West in The Wizard of Oz and Muriel Wickstead in Habeas Corpus. A high spot was appearing in Harold Pinter's Silence which Wick performed at the Fairfield Hall, Croydon.
Margaret teachers at a local Middle School and hopes she is able to communicate her love for the theatre to her pupils. She has a diploma in teaching Drama in Education. She has directed many times for the Wick – productions include The Anniversary, Jane Eyre and, last year, The Rape of the Belt for which she won the 'Best Director' award at the Brighton & Hove Drama Festival.
After seeing the original production of Les Liaisons Dangereuses it has become an ambition of hers to present the play at the Barn Theatre."