The Barn Theatre, Southwick Community Centre
June 8, 9, 10 & 11 1994
Twelfth Night or What You Will
by William Shakespeare
Directed by
Bob Ryder
---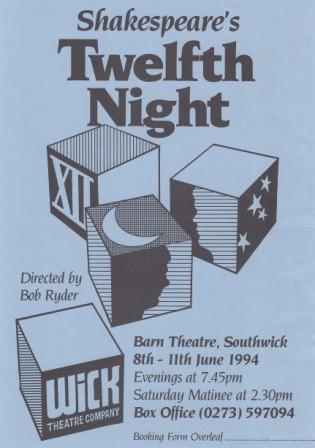 Cast
Philip Balding – Orsino [Duke of Illyria]
Kristina Trevithick – Valentine [one of Orsino's young retainers]
Claire Wiggins – Curio [one of Orsino's young retainers]
Hazel Starns – Furbelow [one of Orsino's young retainers]
Jo Chalk – Viola [Twin sister of Sebastian, later disguised as 'Cesario']
Joan Braddock – Captain [Master of the ship, now wrecked, in which Viola and Sebastian have been travelling]
Margaret Faggetter – Maria [Olivia's 'gentlewoman']
John Barham – Sir Toby Belch [A no-good relative of Olivia, who hangs around her house]
Matthew Bartlett – Sir Andrew Aguecheek [A twit who hangs around Sir Toby and hopes to woo Olivia]
Vic Gough – Feste [A professional entertainer kept by Olivia]
Judith Berrill – Olivia [A Countess]
David Creedon – Malvolio [Steward of Olivia's household]
Nick Ryder – Fabian [Another of Olivia's household]
Andy Chalk – Sebastian [ Twin brother to Viola]
Samir Rahim – Antonio [Another sea captain, who befriended Sebastian when he was washed up further along the coast]
Joan Braddock – Priest [A clergyman Olivia keeps handy in her chantry]
Production Crew
Design – Bob Ryder
Design – Judith Berrill
Stage Manager & Set Supervisor – Dave Comber
Lighting & Sound – Trevor Langley
Lighting & Sound – Frances Thorne
Set Painter – Frances Thorne
Set Painter – Sheila Neesham
Props – Sue Whittaker
Props – Margaret Davy
Costume – Jean Porter
Publicity – Judith Atkinson
Photography – George Laye
Front of House Manager – Mark Flower
Box Office – Anna Barden
Music for the songs – Bob Ryder
Accompanist & Rehearsal Coach – Patrick Johnson
Programme Note #1: Twelfth Night
BR wrote: "Most people have a cosy feeling about Twelfth Night. They half-remember a production, or a description of the play, that was full of pure romance on the one hand and of good clean fun – jolly tricks, foolery and 'cakes and ale' – on the other. But was there ever such an innocent production, which they really saw? Or if they were to read the play today, would they still hold such an impression of purity and harmless fun? One of the enchantments of Twelfth Night – indeed one of its abiding themes – is that things are seldom what they seem.
Let's take the fun first. Like all the very best comedy, Twelfth Night rests on the real world of human frailty and the knowledge that no strong laugh is ever bought cheaply: it is at someone else's expense – someone else's hurt feelings or physical pain. Sir Toby's booziness is funny, for example; so is Sir Andrew's bone-headedness; so too is the bamboozling and bear-baiting of Malvolio. But when we are made to laugh, we are made for that moment to forget that drunkenness is unpleasant; that stupidity is a pathetic state; the crushing of even the proudest man's dignity is cruel; and the baiting of dumb animals or humans is downright torture. It is this 'ambushing' of the audience – making us laugh despite all the tragic implications just below the surface – in which Twelfth Night so brilliantly excels.
And what about the romance? The purest and least ambiguous love in the play is that of Antonio for the young boy, Sebastian – which means of course that it was forbidden; and like Shakespeare's own desire for the 'lovely boy' of his Sonnets, it remains unfulfilled. As for the rest of the lovers – well, it's not the most conventional form of desire when a young man like Orsino finds his effeminate page-boy attractive; nor when a young woman like Olivia completely loses her head over a boy who has obvious girl-like charms. And it's hard to imagine the extra layers of sexual ambiguity that Shakespeare originally intended, bearing in mind the use of boy actors in the female rôles. It is true that the winning lovers in Twelfth Night happen to end up in heterosexual pairings, but their earlier home-erotic goings-on are not the result simply of disguise or mistaken identity, but of their real desire for a fascinating girl/boy figure (or, as it would have been on Shakespeare's stage, a boy/girl/boy figure).
The whole fabric of Twelfth Night is in fact what Feste calls 'changeable taffeta', whose opalescent colour and meaning can alter with the merest shift of light and shade. Words themselves can have changeable meanings – and the characters, particularly Feste and Sir Toby, delight to play with them and 'make them wanton'. Disguise, too, is something which Viola soon discovers is a 'wickedness': one identity – indeed, one gender – can easily become another, like the 'cheveril glove' whose 'wrong side may be turned outward'. And nothing finally can be more confusing than the presence of the boy-girl twins – the visual equivalent of a verbal pun – the 'natural perspective' or optical illusion which, as Orsino says, 'is and is not'.
It has been a great pleasure to work on Twelfth Night with such an enthusiastic company and such a dedicated team of Wick members. The longer we have rehearsed this remarkable play the more of its pleasures and secrets have we uncovered. But however long we were to spend we would never discover them all. Apart from anything else, every night of Twelfth Night is different from every other. There is an infinite variety of insight and reaction which each audience, and each member of an audience, brings to bear. This is above all a play which lives and breathes in the theatre itself.
We hope that you will enjoy sharing our performance."
Programme Note #2: Twelfth Night
The Players
Phil Balding has worked with many theatre companies in the south east and first acted with Wick as the randy Canon Throbbing in Habeus Corpus. He also appeared in Amadeus and was the luckless hero, Guy, in A Chorus of Disapproval. His other recent performances in the area have been in works by Sheriden, Shaffer, Sherman and Shaw, as well as Shakespeare.
John Barham is responsible for some of Wick's funniest comedy performances in recent years, including Bernard (Season's Greetings), Orsini-Rosenberg (Amadeus), Jarvis (A Chorus of Disapproval) and Scoblowski (Daisy Pulls It Off).
Matthew Bartlett made a memorable Wick debut recently as Scarecrow in The Wizard of Oz. He is planning to start a degree course in drama later this year.
Judith Berrill has appeared in ten Wick productions since 1989 – a versatile run that has stretched from the Cheshire Cat (in Alice) to Cecily the Stripping Librarian (in Travesties)! In between, Judith has given Barn audiences plenty of lively moments in parts such as Constanze (Amadeus), Fay (A Chorus of Disapproval), Esmerelda (The Royal Pardon) and the title rôle in Hedda Gabler.
Joan Braddock has a redoubtable acting record with Wick – crowned last year by receiving the Adjudicator's Award in the Brighton & Hove Arts Council Festival for her sensitive portrayal of Nadya (Mrs. Lenin) in Travesties. She has appeared in a wide range of plays for Wick, including Cabaret, The Killing of Sister George (as Madame Zena) and Alice (the White Rabbit).
Jo Chalk has been acting with Wick for more than ten years – though she did begin at a very early age! In recent years she has played a number of heroines who combine beauty with an ambiguous innocence, including Felicity (Habeas Corpus), Judy (Love from Judy), Teya (Hedda Gabler) and Gwendoline (Travesties). This is her second production of Twelfth Night – the first, when she was 14, was a school production in which she played Sir Toby Belch!
Andy Chalk made his straight acting debut in Wick's production of Beyond Reasonable Doubt. More recently he has appeared in Guys & Dolls, The Wizard of Oz (as the Tinman) and Stage Struck. He has also begun to work on play direction, with a studio production of A Glass Menagerie in Wick's annual programme for work by new directors.
David Creedon has been performing with Wick for nearly 30 years and has a string of fine acting credits too long to list. Highlights of his lengthy career include the title rôle in Becket, Elyot (Private Lives) and Higgins (My Fair Lady). His most recent performances have been as the Emperor Joseph (Amadeus), Ted (A Chorus of Disapproval), Tesman (Hedda Gabler) and James Joyce (Travesties).
Margaret Faggetter first appeared for Wick in Noah in 1983. Since then she has acted in a wide range of plays, including Cabaret, Night Watch and Stepping Out. Most recently she was Truvy in Steel Magnolias.
Vic Gough has acted regularly with Wick as well as performing many baritone rôles for the local operatic companies, most recently in Bill Hikock (Calamity Jane), Baron Von Trapp (The Sound of Music) and John Wellington Wells (The Sorcerer). Straight acting parts at the Barn have included Mr. Rochester (Jane Eyre), Inspector Goole (An Inspector Calls). He won the one-act festival best actor trophy as 'Sailor' Zeale (The Zeale Brothers). Comedy rôles include Sir Percy Shorter (Habeas Corpus) and the mad director, Dafydd (A Chorus of Disapproval)
Samir Rahim is making his first appearance with Wick. He has recently returned from a degree course in theatre studies in the USA, where he worked both as an actor (including Iago in Othello) and as the composer and musical director for several college productions (including Oedipus Rex, The Caucasian Chalk Circle, and Machinal).
Nick Ryder joined Wick last year as the musical director of The Wizard of Oz. After a long break from the stage (he used to be a popular Gilbert & Sullivan soloist) he returns in Twelfth Night to make his debut in straight acting.
Hazel Starns first appeared with Wick as a leggy 'Hot Box' girl in Guys & Dolls last year. She also played the Good Witch in The Wizard of Oz. This is her first straight acting rôle.
Kristina Trevithick has appeared in several musicals in the Barn, notably as Madame Dubonnet in The Boyfriend. She too is making her straight acting debut with Wick.
Claire Wiggins first appeared with Wick in the tear stained title rôle in Jane Eyre. She went on to play a chesty Connie Wickstead (in Habeas Corpus) before tugging at the heart-strings again last year as the dying Shelby in Steel Magnolias.
The Production Team
Wick Theatre Company is very fortunate in having some excellent technical departments, all contributing strongly to its productions.
The six-man workshop team has been building four high-quality sets a year since way back, and Frances Thorne and her painting team regularly produce work of style and distinction. Dave Comber has in recent years been stage manager for two shows a year, while Sue Whittaker and Margaret Davy have been working together as the props team on almost every show since 1976. Margaret's strangest commissions, in over 35 years of props work for Wick, were having to obtain a dead ferret and a live lobster – but not for this production!
Trevor Langley joined the hard-working lighting crew last year and has been steadily improving the performance of the Barn's technical equipment. We are also extremely fortunate in having all the willing support which goes into wardrobe work and into all the elements of publicity, box office and front of house work.
Special thanks are due in this production to Jean Porter, who supported all the casting and rehearsal processes, to Richard porter, who gave expert advice on many aspects of design and visual presentation of the show; and to Patrick Johnson for his extensive coaching work with members of the cast.
The Play
The writing of Twelfth Night or What You Will was probably completed in 1601. The earliest known performance was at a Candlemas feast at one of the Inns of Court in 1602. There is no particular significance – apart from the idea of festivity – in the title itself. It is the only play by Shakespeare which has an alternative title: it is possible that What You Will was his working title, in the casual vein of Much Ado About Nothing and As You Like It. Another playwright, Marston, had a play called What You Will staged in 1601, so Shakespeare may then have added his main title of Twelfth Night simply to distinguish it from the competition.
Twelfth Night is an extraordinary demonstration of the playwright's skill. Shakespeare's new work for his previous acting season had included a little offering called Hamlet: he was now 37 and at the height of his powers. Twelfth Night was not to be his last true comedy – the next few years saw the set of great tragedies, then a gradual slowing down with the tragi-comic late plays and his final retirement in 1612 -13.
The skill is evident in every department of the writing: indeed the techniques which Shakespeare crafted in Twelfth Night have heavily influenced good comedy writing ever since. The plotting and development of scenes is highly economical and perfectly judged; the creation of so many strong characters has rarely been equalled; and the way these characters collided and react with each other is ingeniously complex while appearing realistic and simple. On top of all that, the writing of the verse is beautifully fluent and the prose (of which there is more than in most of Shakespeare's other plays) is as colourful and eccentric as the characters themselves.
And yet there are signs that Shakespeare wrote the piece in quite a hurry. Elements of the plot are borrowed from several earlier plays and other features of Twelfth Night seem to have been worked out and developed only during the course of the writing – with characters falling out of the action, or being brought in as a second thought, or changing their dramatic function. There are also a surprising number of minor loose ends (which we will not reveal!) in what always feels to audiences to be a highly organised play – but then Shakespeare was an excellent judge of what would work in practice in a theatrical performance.
What we have in Twelfth Night, therefore, is a masterpiece of comedy, poetry and sheer humanity, written quickly by a very hard-working actor, company playwright and businessman, drawing on a perfect sense of practical theatre and a breathtaking fluency with the pen. It is an awe-inspiring achievement which stands alongside the very best of Shakespeare's work.
The Director
Bob Ryder has produced four very distinctive shows for Wick since 1991 – Habeas Corpus, A Chorus of Disapproval, Hedda Gabler (in his own translation) and now Twelfth Night (for which he also composed the music for the songs).
He has acted in several Wick productions, including leading performances in the award-winning shows Amadeus (as Salieri), The Royal Pardon (as Luke) and Travesties (as Henry Carr); and holds the one-act festival trophy for best actor (as Jerry in The Zoo Story). Over the last two years he has run a programme of practical drama workshops for the company, in which many members of tonight's cast have been involved.