The Barn Theatre, Southwick Community Centre
December 7, 8, 9 & 10 [+Mat] 1988
Night Watch
by Lucille Fletcher
Directed by
Betty Dawes
---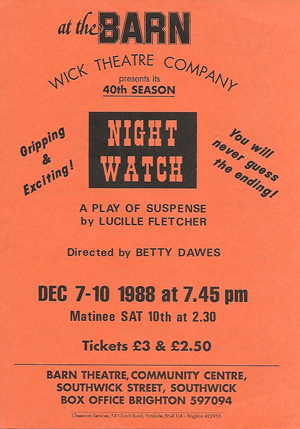 Cast
Margaret Faggetter – Elaine Warner
Peter Joyce – John Warner
Rosemary Biggs – Helga
Philip O'Brien – Vanelli
David Knox – Curtis Appleby
Rosemary Mose – Blanche Cook
Vic Gough – Lieutenant Walker
Joan Bearman – Dr. Tracy Lake
Brian Moulton – Sam Hoke
Production Crew
Set Design – Amanda Dawes
Lighting Design – Barrie Bowen
Stage Manager – Dave Collis
Production Assistant – Sue Whittaker
Electricians – Barrie Bowen
Effects – Jamie Boath
Decor – Amanda Dawes
Decor – Margaret Davy
Decor – Sue Whittaker
Properties – Margaret Davy
Properties – Sue Whittaker
Set Construction – Brian Box
Set Construction – Dave Collis
Set Construction – Dave Comber
Set Construction – Mike Davy
Set Construction – Ralph Dawes
Wardrobe Mistress – Daphne Thornton
Continuity – Betty Martin
Front of House Manager – Margaret Murrell
Box Office – Jill Redman
Foyer Flowers – Rosemary Biggs
Programme Note #1: Night Watch
BD wrote: "I found this play full of intrigue when I first read it and I hope you will find it just the thing for entertaining you on a winter's evening."
Programme Note #2: Night Watch
"Though overconfident and brash in our earlier days the Company has matured through experience and training over 40 years of its existence. We've learned how to put on that professional air – the solid looking sets with doors that don't stick, no visible bandaging over joins, sound effects that are realistic with no clicks or burps; decor that lights well, costumes that don't colour clash; above all voice projection through practice – most of our players can be heard. Mush of this expertise comes from our Monday training sessions and the weekend drama schools run by the County at Lodge Hill.
Young Wick
During the 1960's, Wick set up a Youth Section to encourage young people in the dramatic arts and to prepare them for taking a full part in the Senior Group. Friday evening sessions under the qualified drama teachers, Jean Porter and Patrick Johnson, proved to be a firm base for Young Wick entries in the Sussex Youth Drama festivals. There they consistently won top trophies with such admired productions as Electra, Riders to the Sea and Fearless Heart. Several of the players in that period went on to make a career in the Theatre and others such as Ray Hopper and Peter Joyce, are now among our strongest senior players.
The change of attitude in education in the 1970's led to the abolition of competitive Youth Drama Festivals. The cult of 'no winners, no losers' has brought about DIY displays of self-expression – which some of us deplore.
However, the spirit of competition is still alive in Southwick and Brighton and the Senior Wick have enjoyed the annual keying-up to give of their best in One Act and Three Act Festivals, one of the early successes was with Captain Carvallo in 1959 when Wick played in the Divisional Finals of the BDL at Croydon in the days before the Ashcroft Theatre was built. In later years they performed at the Ashcroft Theatre with The Fearless Heart, Antigone and Pinter's Silence.
In the Brighton Arts Festival for full length plays, Wick has performed consistently well, taking first place with The Amorous Prawn in 1973, followed by later successes with When We Are Married, The Lark, and Abigail's Party, the latter proving a great triumph for Karen Mulholland and Lorraine Hanner.
Again this year we are supporting local festivals – Gary Brighton's production of The Liver Birds was well adjudicated in the Brighton Arts Festival and we have entered the Southwick Drama Festival with The Big Cats directed by Paddy Hartley.
Profiles
Margaret Faggetter went to the Glebe School in Southwick and then to High School. Daughter of the late Bill Scales, well known for his founding the Wick Archaeological Society. She missed the drama training sessions of the 1960's and came into drama in the early 1980's. She was a fast learner and is now in demand for those mid-thirties attractive female rôles. She has appeared in Noah, The Noble Spaniard, Key for Two, Cabaret and other productions.
She was the woman in the triangle in this year's Southwick Drama Festival entry, The Zeale Brothers. She has a young daughter who might soon follow in her mother's footsteps. Margaret is an active worker for Wick and a member of the Committee.
Rosemary Mose: One would have thought a young housewife with four children could generate enough drama of her own, but Rosemary manages her family very well and finds time to indulge in a love of the theatre and singing.
Her first appearance in a Wick play was in 1985 in Agatha Christie's The Unexpected Guest. She followed this with an excellent wife to Norman in Ayckbourn's LivingTogether [part of the Norman Conquest trilogy].
For Unity Productions she had major singing rôles in Godspell and Ride, Ride, and I believed enjoyed herself immensely as a tart in the chorus line of Cabaret this year.
Peter Joyce: Peter came to Wick through the Young Wick Drama classes. In the 1960s we had three talented Joyces in the group – Peter, Vincent, still a member, who is a professional designer and film-maker with his own firm, and Monica [Bueno] who now lives in Corsica. Peter learned his craft by playing such parts as the Tutor in Electra, the King in Ionescu's Exit the King. His first rôle in the senior group was a Spaniard in A Man For All Seasons in 1965.
From then on he took several small parts, but concentrated on becoming a very efficient honorary secretary – a position he held for several years. In 1978 he turned to major acting rôles and scored a great success in Butterflies are Free and continued in other leading rôles, notably in 1980 with She Stoops to Conquer and later with Ring Round the Moon, in which he played the twin brothers. Peter commutes to a Bank job in the City but never fails in his support for the Company.
Barrie Bowen: Wick parties are great fun!!! Barrie has merited two – one some years ago on his 21st and again this October as a surprise on another important birthday. It was a time of nostalgia and meeting old friends. Over the years Barrie has filled all the jobs that are needed to put on a successful show. As an actor he has played many parts, particularly the romantic, such as the sailor in Sailor Beware!, Gaston in Gigi and one of the men in the ménage a trios in The Little Hut. In 1973 he won Best Actor Award in Brighton Arts Drama Festival as Private Green in The Amorous Prawn. He has directed several of Wick's most successful musical plays, notable Salad Days [1972] and Oliver [1982].
He has been Chairman, Secretary and Treasurer at various times and designed lighting and sound effects as well as constructing sets, [though one set was notorious in Wick as inducing 'scene-shifter's back' because of its robustness!!]. Recently, with the sad death of Frank Hurrell, he has taken over managing of the Centre's control box team and has been deeply involved in the technical side of running the Barn Theatre.
He is also a key member of the small panel promoting the Association's "Four Year Plan" to improve the Barn Hall for the benefit of performers [two new music/dressing rooms and a larger stage] and the public [better viewing and seating]. Barrie finds little time for acting or directing – except he would be tempted to drop everything to put on Guys & Dolls.