The Barn Theatre, Southwick Community Centre
December 3, 4, 5 & 6 1986
Season's Greetings
by Alan Ayckbourn
Directed by
George Porter
---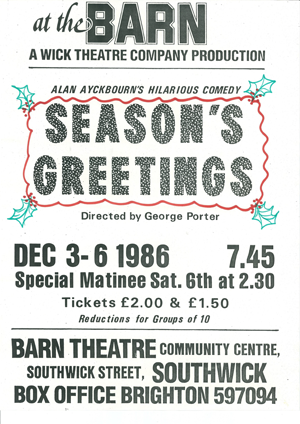 Cast
Ronald Cheesman – Harvey [Uncle to Neville]
John Barham – Bernard [Husband of Phyllis]
Pamela Buxton – Belinda [Wife of Neville]
Judith Atkinson – Pattie [Wife of Eddie]
Raymond Hopper – Neville
Charles Porter – Eddie [Friend of Neville]
Margaret Ockenden – Rachel [Sister to Belinda]
Joan Bearman – Phyllis [Sister to Neville]
David Creedon – Clive [an Author]
Production Crew
Stage Manager – Mark Flower
A.S.M. – Martin Cramp
Set Design – Ralph Dawes
Construction – Brian Box
Construction – Dave Collis
Construction – Dave Comber
Construction – Mike Davy
Puppets Maker – Margaret Davy
Puppets Maker – Sue Whittaker
Decor – John Churchill
Properties – Margaret Davy
Properties – Sue Whittaker
Continuity – Daphne Thornton
Lighting Design – Barrie Bowen
Effects – Julian Rose
Effects – Barrie Bowen
Lighting Box – Barrie Bowen
Lighting Box – Frances Thorne
Lighting Box – Patrick Roberts
Publicity – Julian Rose
Front of House Manager – Frank Child
Box Office – Jill Redman
Programme Note #1: Season's Greetings
The programme's Buzz note: "Season's Greetings is the fifth Alan Ayckbourn play that Wick has presented –
Relatively Speaking; How The Other Half Loves; Absent Friends; Living Together.
Ayckbourn has a flair for reproducing the rhythms and idiosyncrasies of modern suburban speech. This together with an eye for the absurd and comic situations has given rise to a series of delightful plays. All comedies, but with a keen insight into the more serious and delicate relationships in family life – and the sad lack of communications.
Margaret Ockenden, who directed the Norman Conquests Play Living Together and plays Rachel in this play will direct The Anniversary by Bill MacIllwraith, Wick's next play on February 11th – 14th 1987. This is a strong play in which a mother tries to hang on to her three sons by hook or by crook. Bette Davis played in the film.
Our fourth play of the season will be directed by Karen Mulholland who last year had such a huge success with Abigail's Party which won the Brighton and Hove Arts Festival for 3-act plays. This is expected to be Key for Two, by John Chapman, the master of farce, and David Freeman in April next.
Don't forget the Southwick Drama Festival April 24 – 25 1987 when Wick will present a One-Act Play as usual."
Programme Note #2: Season's Greetings
We are proud to present a strong cast of experienced players for this play, which we hope you will find entertaining and jog your memory of other performances by then familiar faces you see in the new Ayckbourn rôles. These friends will have been subject to past triumphs and profiles, but now we must welcome four of the cast who have recently joined the Company – not as novices, certainly, as Pamela Buxton and John Barham have practices the craft in other societies with great success: whilst the younger members have acted before, but not very often – because of a young family in Judith Atkinson's case and Banking Qualification's in Charles Porter's.
Pamela Buxton who is a relative newcomer to the area and wife of Paddy Buxton, Rector of St. Julian and St. Giles Church has joined the Wick Theatre Company quite recently. Season' Greetings is her first appearance with Company. Previously she was involved in setting up the Saints Theatre Group, Worthing and was an actor member of West Chiltington Theatre Group and over the past 20 years has been a regular member of theatre groups wherever she and Paddy lived.
John Barham was a Founder of the Centre Group, Maresfield, and also played with the Hong Kong Garrison Players. His rôles include Aston in The Caretaker, Humphrey Proudfoot in One Wild Oat, Dad in Billy Liar and Mr. Bumble in Oliver at the Gardner Centre in August 1986. He also appeared in Waltz of the Toreadors.