The Barn Theatre, Southwick Community Centre
March 6, 7, 8, 9 & 10 1984
Blithe Spirit
by Noël Coward
Directed by
Douglas Tucker
---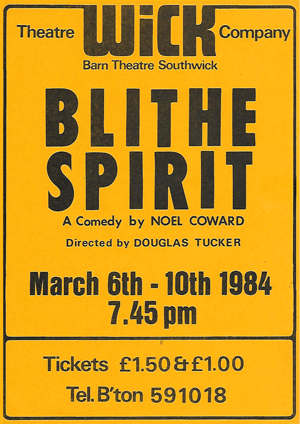 Cast

Karen Mulholland – Edith [a maid]
Joan Bearman – Ruth
Neil Shepherd – Charles
Ronald Cheesman – Dr. Bradman
Frances Moulton – Mrs. Bradman
Sheila Wright – Madame Arcati
Miranda Bowen – Elvira
Production Crew
Stage Design – Ralph Dawes
Stage Manager – Ronald Cheesman
A.S.M. – Margaret Davy
A.S.M. – Jill Redman
A.S.M. – Lucy Nemeth
A.S.M. – Sally Kingsbury
Continuity – Daphne Thornton
Lighting Design – Frank Hurrell
Sound Effects – Barrie Bowen
Set Construction – Brian Box
Set Construction – David Comber
Set Construction – Mike Davy
Set Construction – Nicholas Fletcher
Set Construction – Mark Flower
Set Construction – Vincent Grech
Set Construction – Gillian Robertson
Scenery Painter – Vincent Joyce
Box Office – Frances Thorne
Foyer Décor – Rosemary Biggs
Madame Arcati's Effects – Rosemary Biggs
Programme Note #1: Blithe Spirit
DT wrote; "I have been an enthusiastic admirer of Noël Coward's work for nearly forty years, so it has given me much pleasure and an exciting challenge to have the opportunity of directing one of his most popular plays.
Blithe Spirit was written in six days during a holiday in North Wales in 1941 – hardly a line has been altered since. The master wrote it, as he says, as a result "of an idea for a light comedy which had been rattling at the door of my mind, and I thought that the time had come to let it in and show it a little courtesy". The 'idea' when it was first performed later in 1941 ran for 1997 performances! Despite the fact that over forty years have elapsed, I think it is still tremendous fun and splendid 'theatre', which I hope you will all enjoy.
We welcome, Karen Mulholland in her first rôle in a 'straight' play with the senior company, although she is well-known as a longstanding member of the Young Wick group and for her performances in Wick musicals. This play also sees Sheila Wright in her first major rôle since Arsenic and Old Lace and we are very pleased to have her 'treading the boards' again. The remainder of the cast make regular appearances and the majority have worked with me in previous productions. They are obviously gluttons for punishment!
I am very grateful to all the cast and stage staff who have worked so hard to bring this production about in a very short period of time."