The Barn Theatre, Southwick Community Centre
December 7, 8, 9, 10 &, 11 1982
Goodnight Mrs. Puffin
by Arthur Lovegrove
Directed by
Douglas Tucker
---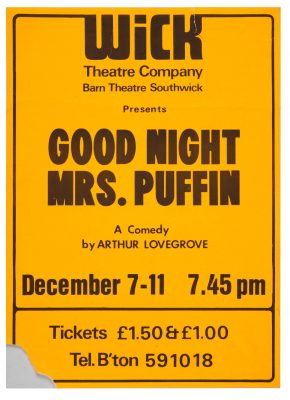 Cast
Jean Porter – Ethel Fordyce
Emily Reed – Jacqueline Fordyce
Sally Pumford – Pamela Fordyce
Antony Muzzall – Nicholas Fordyce
Sally Bacon – Annie
Daphne Thornton – Amelia Puffin
Ronald Cheesman – Henry Fordyce
Frank Semus – Stephen Parker
Mark Skipper – Victor Parker
Clive Trott – Roger Vincent
Production Crew
Stage Manager – Frances Thorne
A.S.M – Jill Redman
Lighting & Effects – Frank Hurrell
Lighting & Effects – Frank Child
Lighting & Effects – David Child
Lighting & Effects – Jonathon Dawes
Wardrobe – Pat Moss
Properties – Margaret Davy
Properties – Sue Whittaker
Front of House – George Porter
Set Construction – Ralph Dawes
Set Construction – Dave Collis
Set Construction – Brian Box
Programme Cover – Antony Muzzall
Foyer Photographs – George Porter
Foyer Decoration – Rosemary Biggs
Box Office – Nicholas Thorne
Programme Note #1: Goodnight Mrs. Puffin
DT wrote: "Dear Audience
This production introduces a number of new faces to our audience and I am particularly happy that it involves younger actors and actresses. The Amateur Societies in this area suffer, it seems, from a scarcity of members in the 20/25 age group, so we are very fortunate to have Clive Trott, Mark Skipper and Emilie Reed 'guesting' for us.
Without them, this play could not have been staged. Originally, I thought I could cast from existing members but for various reasons they were unavailable to take part. Antony Muzzall and Sally Pumford are of course Wick members and complete the 'younger' element. Thus we have a good blend of younger and, dare I say, 'older' members of the company.
Jean Porter makes a welcome return, after a fairly long absence. It is great to see her with us. Frank Semus has recently joined the company and I am sure we shall see more of him in the future.
I am grateful to the cast and all involved back stage for the hard work and co-operation they have given me during the relatively short rehearsal period since our last play.
It now remains to put our efforts to the test and if we succeed in amusing you and for a brief hour or two make you forget the 'world outside' then I, for one, will have achieved my purpose. I believe, very strongly, that one of the main roles of the Theatre is to entertain. All too often these days play writers seem to want to make us think about some social problem of our time and put over to us their own philosophical outlook on a chosen theme. This is, of course, very laudable and if the play truly entertains then it is no doubt acceptable. Nevertheless I still prefer entertainment without a specific message. Though undoubtedly not a classic I think this play fulfils that role and that is why I chose it. I hope you enjoy it."