The Barn Theatre, Southwick Community Centre
September 28, 29, 30 – October 1 & 2 1982
Rebecca
by Daphne du Maurier
Directed by
Joan Bearman
---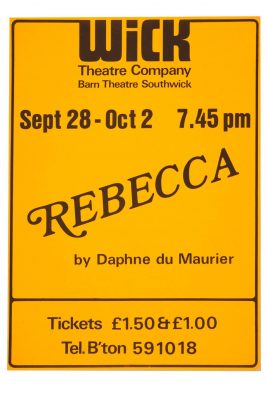 Cast
John King – Frith
Frances Moulton – Beatrice Lacy
Ronald Cheesman – Giles Lacy
Douglas Tucker – Frank Crawley
Jill Redman – Roberts
Daphne Thornton – Alice
Neil Shepherd – Maxim de Winter
Lorraine Hanner – Mrs de Winter
Pat Moss – Mrs Danvers
Ralph Dawes – Jack Favell
Brian Moulton – Colonel Julyan
Frank Child – William Tabb
Production Crew
Stage Manager – Barrie Bowen
A.S.M. – Jill Redman
Lighting & Effects – Frank Hurrell
Lighting & Effects – David Child
Properties – Margaret Davy
Properties – Sue Whittaker
Front of House – Rosemary Biggs
Programme Cover – Antony Muzzall
Foyer Photographs – George Porter
Box Office – Frances Thorne
Box Office – Nicholas Thorne
Programme Note #1: Rebecca
JB wrote: "Dear Audience, Thank you for coming to this performance of Rebecca. I was asked to write a programme note but I feel it would be presumptious [sic] of me to venture an introduction to such a well known story. Let it suffice to describe it as a drama of love and mystery. This is Mrs De Winter's story.
As a relatively recent member of Wick, I was surprised and flattered to be asked to direct the first production of this Season – a daunting task – but I should now like to thank my cast for their dedication and good humour and the back stage crew for their support and hard work. I have survived with far fewer grey hairs than I had anticipated.
We have had a great deal of pleasure rehearsing this play and sincerely hope you will enjoy the results. Should our presentation encourage any of you to become members as well – that would be a delightful bonus."
Programme Note #2: Rebecca
Jill Redman has for a number of our plays now, appeared on the programme as the ASM which hides her very important rôle back stage – the prompt. Never one to say much during a production, Jill has now been persuaded to step out from the wings as Roberts. When reading the play Jill was puzzled by Mrs de Winter having no name. To find the answer Jill wrote to the authoress, who replied –
"Dear Miss Redman
Excuse a brief reply to your letter, but I have been unwell for some months. The reason I gave no name to the second Mrs de Winter was A – because I wanted to see if it were possible to write a novel without giving a name to the heroine, and B – because anyway I could not think of a suitable name!
I wish you all the success with your production.
Yours sincerely
signed Daphne du Maurier"