The Barn Theatre, Southwick Community Centre
May 22, 23, 24, 25 & 26, 1979
---
100th PRODUCTION
---
Sailor, Beware!
by Philip King & Falkland Cary
Directed by
Frances Moulton
---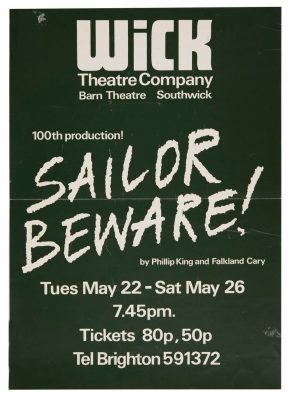 Cast
Betty Dawes – Emma Hornett
Ralph Dawes – Henry Hornett
Betty Elliott – Eddie Hornett
Miranda Bowen – Shirley Hornett
Barrie Bowen – Albert Tufnell, A.B
Ray Hopper – Carnoustie Bligh, A.B
Clodagh Riedl – Daphne Pink
Jean Porter – Mrs Lack
Douglas Tucker – Rev. Oliver Purefoy
Production Crew
Stage Manager – Brian Moulton
Assistant – Margaret Davy
Assistant – Frances Thorne
Assistant – Sally Bacon
Assistant – Susan Whittaker
Lighting – Frank Hurrell
Assistant – Andrew Theaker
Assistant – Bob Baker
Assistant – Tom Bannister
Set Design & Construction – Brian Moulton
Front of House – George Porter
Box Office – Sandie Joyce
Programme Design – Vincent Joyce
Programme Note #1: Sailor, Beware!
FM wrote: "For those of you who have supported us for more years than you may care to recall, I should like to reassure you that you are not suffering from de ja vu.
You are about to see the same production with almost the same ingredients as twenty years ago. The missing ingredients are pat Carpenter as 'Shirl' now living in Harrogate, Miranda's brother Nicolas as Purefoy, who is in South Africa, and Betty Elliott's sister Mary as Mrs. Lack
The other missing ingredient and creator of this very funny play is author, friend and late President of the Southwick Players, Philip King, who sadly passed away in February. He was to have been with us this week.
We all entered this production with some trepidation as magic moments from the past do not always render up the same feelings when recreated, but as a marking of 100 productions we think it is both fitting and entertainment to present. We also take pleasure in presenting it as our tribute to the memory of Philip King."
[Playwright Philip King died of cancer at his Brighton home February 9th 1979.]