The Barn Theatre, Southwick Community Centre
May 2, 3, 4, 5 & 6 1978
How The Other Half Loves
by Alan Ayckbourn
Directed by
George Porter
---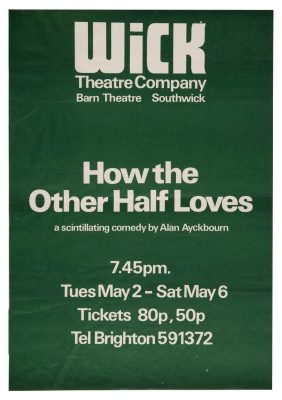 Cast
Alan Upton – Frank Foster
Jean Porter – Fiona Foster
Roger Job – Bob Phillips
Miranda Bowen – Terry Phillips
Tim Cara – William Featherstone
Jeanette Goode – Mary Featherstone
Production Crew
Set Design – George Porter
Stage Manager – Peter Joyce
Assistant – Margaret Ockenden
Lighting – Andrew Theaker
Properties – Frances Thorne
Properties – Margaret Davy
Front of House – Frances Moulton
Programme Note #1: How The Other Half Loves
GP wrote: "If you're going to do a situation comedy why not start with a really bizarre situation – why not mix up the Foster's and the Phillips' houses on the same stage – two in one so to speak! And why not play tricks with time so that we can see events on Thursday and Friday at the same time!
With such ingenuity Ayckbourn provides himself with a superb background to play out a series of hilarious situations. He is a master of the comedy of everyday speech. Ayckbourn's situations need good team work and casting. I hope we've found the right balance and that you will be vastly entertained by these 'odd Ayckbourn people'".
Programme Note #2: How The Other Half Loves
How The Other Half Loves sees a welcome return to the Barn stage of Jean Porter, Alan Upton and Miranda Bowen, all of whom have been away from acting for some time.
Jean's last appearance was a lead in the Marquise, Noël Coward's play so enjoyed by all. Behind the scenes Jean was hard at work to direct the tremendous success, My Fair Lady.
Miranda was last seen in The Secretary Bird some three years ago. In the meantime a house move back into Southwick and a growing family meant little time for the boards. We welcome her return.
Jeanette Goode joined us early last year and a resounding success in Barretts of Wimpole Street. Since then Jeanette has proved her back stage uses in putting the youngsters through their dancing paces for Where the Rainbow Ends.
Alan Upton is well remembered for his Felix in The Odd Couple and Tim Cara was in the last Wick production of Rainbow.
Roger Job has appeared regularly in our plays, he was in Intent to Murder and the earlier Ayckbourn.
George Porter is one of a small band of directors, within the company and has had many notable successes.
Every one connected to the play has had a lot of enjoyment and it is hoped that you will too.