The Barn Theatre, Southwick Community Centre.
October 4, 5, 6, 7 & 8, 1977.
---
Intent to Murder
by Leslie Sands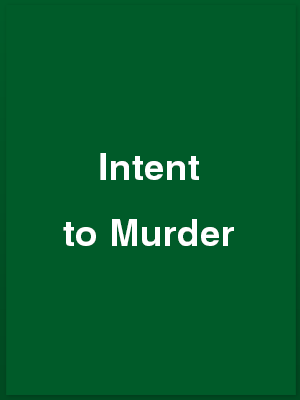 Directed by
Bill Mack
Cast
Margaret Ockenden – Janet Preston
Tim Cara – George
Brian Moulton – Mr. Henderson
Jane Vrettos – Chris
Roger Job – Larry
Rosemary Boulton – Mrs. Bunting
Production Crew
Stage Manager – Paul Vrettos
Set Layout – Bill Mack
Set Design & Construction – Paul Vrettos
Set Design & Construction – Richard Porter
Lighting & Sound – Andrew Theaker
Properties – Frances Thorne
Properties – Margaret Davy
Assistant Stage Manager – Sue Cara
Front of House Manager – Frances Moulton
Programme Note #1: Intent to Murder
BM wrote "Did she or didn't she? Is George the real villain or is there more to it? How much does Henderson know?' All is revealed in this play with its many varied twists and turns, which I first saw and liked when performed by a touring company in Bognor some years ago. If our offering absorbs your interest as theirs did mine and keeps you guessing as to the eventual outcome, then we shall be well pleased."
Programme Note #2: Intent to Murder
"We are very pleased to welcome this play to the barn stage, as it marks the first production by Bill Mack. Bill has been with the Company for five years and had=s appeared in a number of plays, including When We Are Married as Herbert Soppitt and Barretts of Wimpole Street as Mr. Barrett himself. Bill is also a stalwart member of the workshop.
This play is being entered for the Annual Brighton & District Drama Association full length play festival and we wish them all GOOD LUCK.
The members of the cast reflect the new and the old. Brian Moulton joined us some twenty five years ago and has been a powerful Henry in Man For All Seasons, a typsy reporter, Ormonroyd, in When We Are Married and an outstanding lead in Othello, among many parts.
Rosemary Boulton, meanwhile, joined us late in 1976 and appeared in Barretts. Rosemary moved into Southwick from Essex and Tim Cara moved to Shoreham from the West Country. Tim also appeared in the Barretts in the cameo rôle of Capt. Surtees Cook. Margaret Ockenden has been in Wick since 1966 and was on the Barn stage earlier this year in Relatively Speaking, when Margaret played the part of Sheila, Margaret also appeared in the Odd Couple, as one of the Pigeon sisters. Roger Job has been with us for five years and he too was in Relatively Speaking as Greg. He was also in Barretts and that delightful one-act entry in the Centre's Festival this year, Bedtime Story.
Jane Vrettos is taking a rest after this play and we hope Jane will not stay away too long. We remember her Molly in The Secretary Bird and the delightful Wilson in the Barretts."
……and by the way 'tea and biscuits' were available during the interval; price 10p.
---