The Barn Theatre, Southwick Community Centre.
October 14, 15 & 16 1965.
---
A Man for All Seasons
by Robert Bolt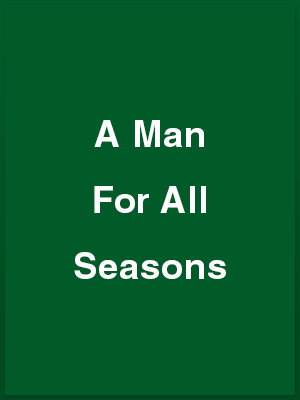 Directed by
George Porter
Cast
David Creedon – The Common Man
Pat Johnson – Sir Thomas More
David Goodger – Richard Rich
Barrie Bowen – The Duke of Norfolk
Angela Bolton – Alice More
Fay Sturt – Margaret More
Nikki Le Roy – Cardinal Wolsey
Ralph Dawes – Thomas Cromwell
Wilfred Perkins – The Spanish Ambassador
Peter Joyce – his attendant
Peter Elson – William Roper
Brian Moulton – King Henry VIII
Pru Thompson – A woman
Peter Power – Archbishop Cranmer
Production Crew
Stage Manager – Ian Elliott
Lighting – Frank Hurrell
Sound Effects – Terry Mase
Wardrobe – Morfydd Bowen
Properties – Margaret Perrett
Settings – Norman Hutchins
Programme Note: A Man for All Seasons
GP wrote: "I became interested in Thomas More's portrait some years ago at the Holbein Exhibition at the National Gallery. It showed a man of integrity and understanding, a man with his feet on firm ground, when most of his contemporaries seemed to be afloat and uncertain. One could see it in the eyes. The Common Man in Robert Bolt's play prides himself on being able to 'touch bottom' and watch his main chance. He is a symptom of the times, a fellow traveller looking after No.1 with a sort of cunning and sense of self-preservation. Perhaps most of the common people were like that.
With More, that great man, it is different. He could not help loving Trust more than family and self. He stood against the current of the times because his intellect raised him above his fellows, who changed to suit every shift of Henry VIII's passions. The seasons found him constant but in his breadth of character he was, surely a man to relish all seasons.
To present a play of this nature and give it a true flavour of the 16th Century requires a great effort of teamwork and I am happy to be a member of an enthusiastic team, of whom we are all particularly indebted to Morfydd Bowen, Bess Blagden and Nikki Leroy for their work on the costumes and properties."
---