The Barn Theatre, Southwick Community Centre.
April 7, 8 & 9, 1960.
---
Sleeping Partnership
by Kenneth Horne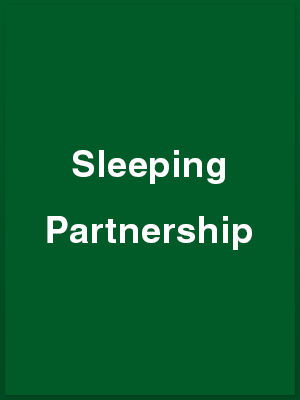 Directed by
Ralph Dawes  &  Ray Hopper
Cast
Barrie Bowen – Mark Graham [Jill's fiancé]
Ann Skemer – Phyllis Peabody [Julian's younger daughter]
Brian Moulton – Julian Peabody
Ralph Dawes – Doctor
Clodagh O'Farrell – Jill Peabody [Julian's elder daughter]
Ross Workman – Stephen Clench [Phyllis' fiancé]
Betty Elliott – Violet Watkins [Julian's secretary]
Production Crew
Stage Manager – Frances Davy
Set Design & Decor – Barrie Bowen
Set Design & Decor – Frances Moulton
Lighting – Frank Hurrell
Sound Effects – John Chatfield
Wardrobe – Frances Moulton
Stage Staff – Margaret Perrett
Stage Staff – Judy Bowen
Stage Staff – Malcolm Guy
Stage Staff – Mary Chinchen
Front of House Manager – George Penney
Programme Note: Sleeping Partnership
The programme [priced 4d.] carried this note:
"This is our first adventure into the mysteries of theatrical production, and you probably wonder why there are two of us. The fact is, one of us was young enough – and rash enough – to want to produce, and the other, of maturer outlook, volunteered to form a partnership (not passive but active).
It might, now, seem logical that we should be compelled to stage this particular comedy by Kenneth Horn. Strangely enough this was not so. Our initial aim was to keep to the Young Wick tradition of presenting a successful comedy each Spring, but the route to our final choice was tortuous in the extreme, which we have been informed is always the case.
We sincerely believe we have assembled a cast which will do justice to this amusing play, and we hope you will find the our 'Sleeping Partnership' has paid most handsome dividends. " R.D. & R.H.
---