The Barn Theatre, Southwick Community Centre
March 8, 9, 10 & 11, 2017.
---
Amy's View
by David Hare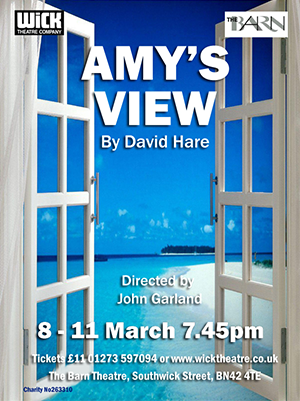 Directed by
John Garland
Cast
Dan Dryer – Dominic Tyghe
Anna Steddon – Amy Thomas
Anita Shipton – Evelyn Thomas
Sarah London – Esme Allen
David Peaty – Frank Oddie
Maurice Humphrys – Toby Cole
Production Crew
Stage Manager – David Comber
Deputy Stage Manager – Julian Batstone
Assistant Stage Manager – Helena Howe
Lighting Design & Operation – Martin Oakley
Sound Design – Bob Ryder
Sound Operation – Brian Jones
Costumes – Maggie Pierce
Costumes – Cherry Fraser
Properties – Anita Shipton
Properties – Di Tidzer
Set Design & Construction – David Comber
Set Design & Construction – Carl Gray
Set Design & Construction – Nigel Goldfinch
Set Design & Construction – Gary Walker
Set Design & Construction – Dave Collis
Set Painter – Sue Chaplin
Publicity – Judith Berrill
Publicity – Rosemary Bouchy
Publicity – Peter Joyce
Publicity – Maggi Pierce
Poster & Programme Design – Judith Berrill
Front of House – Tor Dunster
Programme Note #1: Amy's View
JG wrote: "I first became aware of David Hare's work when I was cast in an amateur production of Secret Rapture in the early 1990's. Following this, I was fortunate to see several of the plays that debuted at The National Theatre throughout that decade – the last of which was Amy's View [1997].
Having just begun my training as a psychiatric nurse, I quickly became fascinated by his ability to depict relationships that are, ultimately, flawed as well as his propensity to challenge the social conventions of the time.
Amy's View has several themes – most critics describe it as a tragedy: the decline of theatre as a popular medium when the "moving image" of Film / TV became dominant [something we still struggle with today!], the advent of the "get rich quick" society of that time and the perils that can befall us if we follow this route, as well as the gradual disintegration of the family unit if it fails to find a way of compromise.
I have been very lucky to have found an extremely talented cast to portray the emotional intensity of this piece – the rehearsal period has been short, but incredibly rewarding.
I hope you enjoy it as much as I have."
---