The Barn Theatre, Southwick Community Centre.
October 9, 10, 11 & 12, 2013.
---
Death of a Salesman
by Arthur Miller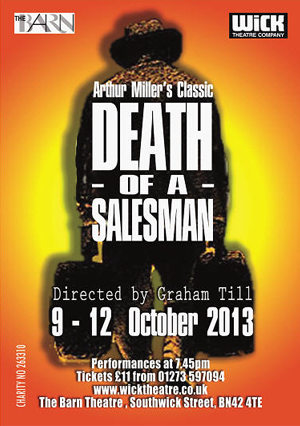 Directed by
Graham Till
Cast
Bob Ryder – Willy Loman
Pam Luxton – Linda
Guy Steddon – Biff
Phil Brown – Happy
Tony Brownings – Charley
Dan Dryer – Bernard
David Creedon – Uncle Ben
John Garland – Howard Wagner
Sophie Lane – Jenny / Letta
Judith Berrill – The Woman
Ian Grover – Stanley
Sarah Frost – Miss Forsythe
Katie Piper – Waitress
Production Crew
Assistant Director – Caroline Woodley
Stage Manager – Zoey Attree
Deputy Stage Manager – Terri Challis
Lighting Engineers – Martin Oakley
Lighting Engineers – Mike Philips
Sound Set-Up – Rhys Skilling
Sound Operation – Andy Viney
Costume – Margaret Pierce
Costume – Cherry Briggs
Costume – Caroline Woodley
Props – Caroline Woodley
Workshop & Set – Carl Gray
Workshop & Set – John Cole
Workshop & Set – David Comber
Workshop & Set – Nigel Goldfinch
Workshop & Set – Sue Chaplin
Workshop & Set – Judith Berrill
Workshop & Set – Margaret Davy
Workshop & Set – Sheila Neesham
Poster Design – Judith Berrill
Publicity – Anna Quick
Publicity – Rosemary Bouchy
Publicity – Margaret Pierce
Publicity – Judith Berrill
Headshots – Ray Hopper
Front of House Co-ordinator – Betty Dawes

Programme Note #1: Death of a Salesman
GT wrote: "I am grateful to Wick Theatre Company for giving me the opportunity to direct this wonderful play. It has of course achieved high status for its literary merit – I first met it as a school set text – but it started out as, and still is, a moving and intensely powerful piece of theatre. I loved seeing it at the National Theatre with Warren Mitchell as Willy Loman, and I was reminded some years later when my eldest son read it for his American Studies degree that it was something I would like to do.
Miller's original production was groundbreaking. He conceived a permanent set which is a mix of realistic and representational ('a dream rising from reality'); his hero lives half in the present and half in his rose-coloured past, with the supporting cast around him helping play out his imaginings in and around his house – which is sometimes 'there' and sometimes not – and elsewhere; and the scenes which tell the story roll seamlessly one into another, with guidance for the audience provided more than anything by lighting changes and the use of music almost in a filmic way.
I wanted to stay as close to all this as possible (recreating a little 1940s atmosphere along the way) because I felt that it would be the best way to home in on the core themes: Willy's disintegration, and the steadily building tension from his encounters with family members, friends and business associates, especially those with his elder son Biff. In fitting all this onto the Barn stage, I have placed many demands on a small army of contributors to whom I owe copious thanks.
And thank you, too, for coming. I hope you have an enjoyable evening.
---