The Barn Theatre, Southwick Community Centre.
March 9, 10, 11 & 12, 2011.
---
Shakers
by John Godber  &  Jane Thornton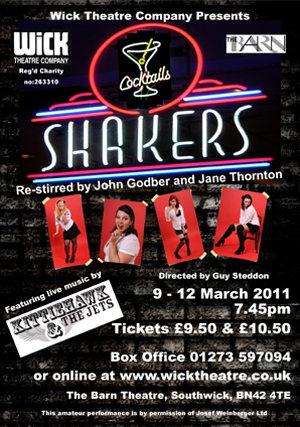 Directed by
Guy Steddon
Cast
Anna Quick – Mel
Phoebe Hine – Adele
Sophie Lane – Nicky
Emma Parker – Carol
Production Crew
Production Assistant – Tom Harris
Stage Manager – Holly Lane
Deputy Stage Manager – Hem Cleveland
Lighting Design & Operations – Mike Medway
Sound Operations – Tom Harris
Sound Design – Guy Steddon
Set Design & Construction – David Comber
Set Design & Construction – Martin Oakley
Set Design & Construction – Carl Gray
Set Design & Construction – Paul Checkley
Set Design & Construction – Sue Chaplin
Poster Design – Anna Quick
Poster Design – Guy Steddon
Poster Design – Judith Berrill
Publicity – Anna Quick
Publicity – Guy Steddon
Window Display – Rosemary Brown
Front of House – Betty Dawes
Programme Note #1: Shakers
The View from the Bar by GS: "Welcome all to 'Shakers'; the trendy wine bar from hell!
John Godber and Jane Thornton's play was first written and performed in 1985. It has long been considered to be a companion piece to Godber's other famous works of that era – Bouncers and Teechers. The writers revisited and 'Re-Stirred' the play in 1991, producing the play that we are performing for you this evening.
Shakers is an enormous challenge to perform in. The four actors are on stage throughout, playing over 20 characters between them and delivering huge amounts of dialogue. It is not an easy undertaking by any means and I am so pleased that this cast has risen to the test with aplomb and sheer determination. I raise a glass to them all!
I have been thrilled that virtually everyone I wanted to help me get this play on stage has said 'yes!' I have had a dream team behind me covering everything from lighting, publicity and design. Cheers to all concerned!
Special thanks to my long-suffering production assistant, Tom Harris [Cocktail of choice: Flatline – Sambuca, Tequila and Tabasco]. Tom Harris been an extra pair of eyes, ears and hands whenever I have needed them and has been invaluable all round. Salut Tom!
Lastly, huge thanks to you, our audience. Supporting theatre within this economic climate is not always an easy thing to do. We appreciate your continued enthusiastic support and hope we can continue to be deserving of it.
Oh, and in case you were heading that way ….. Mine's a Dirty Mojito [Spiced Rum, Soda Water, Fresh Mint Leaves, Crushed Ice, Brown Sugar and Lime Juice].
---