The Barn Theatre, Southwick Community Centre.
September 29, 30 – October 1 & 2, 2010.
---
Don't Look Now
by Daphne du Maurier adapted by Nell Leyshon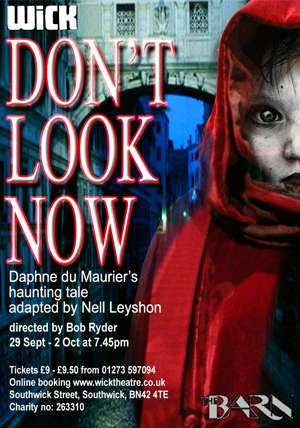 Directed by
Bob Ryder
Cast
Guy Steddon – John
Hazel Starns – Laura
Gill Medway – Sister
Diane Robinson – Blind Sister
Tony Brownings – Hotel Clerk
Ray Hopper – Street Musician
David Creedon – Policeman
Other parts played by members of the Cast.
With special appearances by; Lauren Hodge & Rebecca Hodge
Production Crew
Stage Manager – Martin Oakley
Deputy Stage Manager – Hem Cleveland
Lighting – Mike Medway
Sound Design – Richard Ratcliffe
Sound operation – Allegra Drury
Props – Margaret Davy
Props – Sue Whittaker
Wardrobe – Cherry Briggs
Wardrobe – Margaret Pierce
Set – David Collis
Set – Sue Chaplin
Set – David Comber
Set – Martin Oakley
Set – Margaret Davy
Set – Sheila Neesham
Backstage Team – Howard Neal
Backstage Team – Gary Ruell
Poster Design – Judith Berrill
Publicity – Rosemary Bouchy
Publicity – Lucien Bouchy
Publicity – Rosemary Brown
Production Photos – Lucien Bouchy
Front of House – Betty Dawes
Programme Note #1: Don't Look Now
BR wrote: "Don't Look Now first appeared in 1970 as a short story by Daphne du Maurier. It then became widely known in a fine film version by Nicholas Roeg, released in 1973 – alongside another British cinema classic, The Wicker Man. Both films quickly gained quite a cult following, which has continued for nearly 40 years.
The stage play by Neil Leyshon is only three years old. It had a successful run at the Sheffield Lyceum in 2007, then in London at the Lyric Hammersmith. The adaptation, which is far more closely based on Daphne du Maurier's original text, opens up many interesting possibilities in the live theatre.
The drama plays on the themes of loss and vulnerability, as experienced by the central couple. But it is driven forward by the themes of destiny and fate. How far do we foresee something happening, or even will it to happen – or is it fated to happen anyway, which ever way we turn? Perhaps the journey through the play should remind us of The Wicker Man: as events unfold and become more bizarre, is there only one inevitable path to its ending?"
---