The Barn Theatre, Southwick Community Centre
October 7, 8, 9 & 10, 2009
Popcorn
by Ben Elton
Directed by
Steve Gallant
---
2009 BHAC Full Length Drama Competition
– Best Actress – Anna Quick for her playing of Scout
– The Flower Family Award for Best Technical Achievement – Popcorn – Andy Etter for his amazing video and animation effects, bringing the background of the plot to breathtaking life.
– Best Publicity
---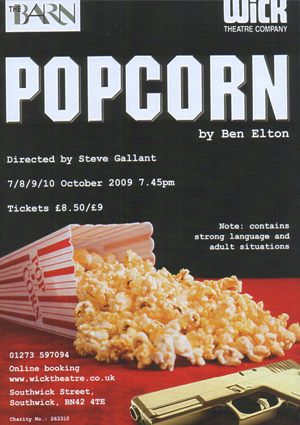 Cast
John Garland – Karl Brezner
Bob Ryder – Bruce Delamitri
Sophie Lane – Velvet Delamitri
Zoë Edden – Farrah Delamitri
Guy Steddon – Wayne Hudson
Anna Quick – Scout
Amanda Urwin-Mann – Brook Daniels
Allegra Drury – Kirsten
David Thomas – Bill
Production Crew
Director's Assistant – Fiona Cameron
Stage Manager – Fiona Cameron
Deputy Stage Manager – Natalie Colgate
Lighting Design – Mike Medway
Video Projection & Animation – Andy Etter
Sound Design – Steve Gallant
Light & Sound Operation – Lee Wenham
Set Construction – David Comber
Set Construction – Carl Gray
Set Construction – David Collis
Set Construction – Paul Checkley
Set Painting & Dressing – Sue Chaplin
Set Painting & Dressing – Sheila Neesham
Set Painting & Dressing – Margaret Davy
Wardrobe – Cherry Briggs
Wardrobe – Zoey Attree
Press & Publicity – Rosemary Bouchy
Displays – Rosemary Brown
Poster Design – Claire Hall
Publicity Photography – Lucien Bouchy
Front of House – Betty Dawes
Programme Note #1: Popcorn
Bruce Delamitri is a movie director on a mission – winner of the Best Director Oscar, he's the hero of the MTV generation for his violent films which, he claims, simply hold up a mirror to real life and portray the lives of ordinary Americans. But in a world where explosive and extreme violence is becoming common place, it is time to admit that art doesn't only imitate life – it influences it.
Popcorn is Elton's satirical take on the shallow inhabitants of Hollywood and the movie -culture of the nineties. His brutal honesty and acerbic wit arte perfectly suited to the subject matter and although cynical, the dark humour is never far beneath the surface. As one of his earlier forays into writing, it remains one of his strongest pieces to date.
Popcorn was first published as a book in 1996 and Elton himself adapted the story into a play which was first presented with The West Yorkshire Playhouse at the Nottingham playhouse in September 1996 and subsequently presented at the Apollo Theatre, London, in April 1997."