The Barn Theatre, Southwick Community Centre.
March 4, 5, 6 & 7, 2009.
---
Abigail's Party
by Mike Leigh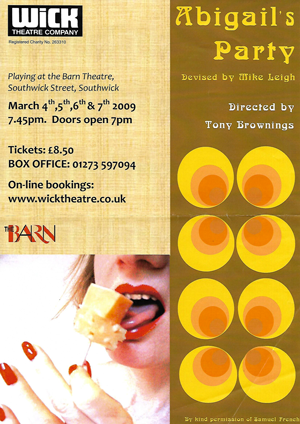 Directed by
Tony Brownings
Cast
Natalie Colgate – Beverly
Mark Best – Laurence
Anna Quick – Angela
Guy Steddon – Tony
Hazel Starns – Sue
Production Crew
Director's Assistant – Fiona Cameron
Stage Manager – David Comber
DSM – Zara Spanton
Set Design – David Comber
Lighting – Mike Medway
Sound – Phillip Oliver
Wardrobe – Cherry Briggs
Wardrobe – Margaret Pierce
Properties – Margaret Davy
Properties – Sue Whittaker
Workshop Team – David Comber
Workshop Team – David Collis
Workshop Team – Carl Gray
Workshop Team – Paul Checkley
Workshop Team – Sue Chaplin
Workshop Team – Sheila Neesham
Workshop Team – Margaret Davy
Workshop Team – Judith Berrill
Publicity – Rosemary Bouchy
Publicity – Anna Barden
Publicity – Rosemary Brown
Publicity Photographs – Lucien Bouchy
Front of House – Betty Dawes
Programme Note #1: Abigail's Party
"My two favourite descriptions of the play are 'The most painful hundred minutes in British comedy drama' and 'An appalling evening of domestic entertaining in suburbia'.
Originating as a Hampstead Theatre production and first broadcast as part of the Play for Today season, Abigail's Party is Mike Leigh's best known television work, and perhaps the most celebrated TV play of the 1970's. Its enduring popularity has seen it staged in countless theatrical productions around the world, including an award winning production for the Wick in 1984.
This is an Abigail's Party for a new generation of Wick actors and actresses. It would be pointless to recreate a carbon copy of the original so, whilst we have been faithful to the piece, each performer has really made the character they are playing their own.
I do hope it will make you laugh a lot and make you squirm in your seat sometimes. Preferably, on occasions, both at the same time!
---