The Barn Theatre, Southwick Community Centre.
September 26, 27, 30 – October 1, 2, 3 & 4, 2008.
---
Richard III
by William Shakespeare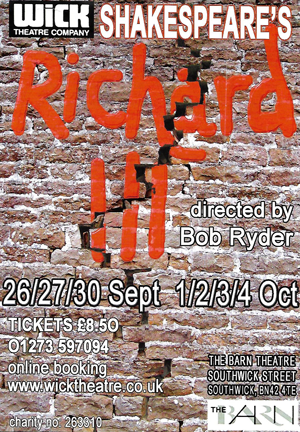 Directed by
Bob Ryder
Cast
– House of York –
Judith Berrill – The Duchess
Tony Brownings – Edward IV
Philip Balding – George [Clarence]
Guy Steddon – Richard [Gloucester]
– Richard's Enforcers & Apprentices –
Kati Szeless – Catesby
Hazel Starns – Ratcliff
Sarah Frost – 1st murderer
Kirsty Biss – 2nd murderer
Tony Brownings – Tyrell
Zoey Attree – Page
Mark Best – Brakenbury
Natalie Colgate – Elizabeth
Brian Gill – Rivers [Elizabeth's relative]
William McDonald – Dorset [Elizabeth's relative]
Tom Pearson – Grey [Elizabeth's relative]
Sarah Frost – Prince Edward
Kirsty Biss – Young York
Kirsty Biss – Young Elizabeth
Tom Harris – Shore [All-purpose mistress]
– House of Lancaster –
Gill Etter – Margaret
Anna Quick – Anne
John Garland – Richmond
– Nobles & Politicians –
James Doyle – Buckingham
David Creedon – Hastings
Peter Thompson – Derby
Ray Hopper – Cardinal
Joan Bearman – Lord Mayor
Tony Brownings – Norfolk
Ray Hopper – Oxford
Joan Bearman – Herbert
– Everyday Folk –
Zoey Attree – Citizen
Mark Best – Citizen
John Garland – Citizen
Joan Bearman – Citizen
Tom Pearson – Priest
Tom Harris – Priest
Tom Pearson – Messenger
Zoey Attree – Messenger
Mark Best – Messenger
Ray Hopper – Scrivener
Fiona Cameron – Mistress Mop
Production Crew
Production Assistant – Fiona Cameron
Production Design – Bob Ryder
Stage Manager – David Comber
Deputy stage manager – Zara Spanton
ASM – Fiona Cameron
Lighting Design – Mike Medway
Sound Technician – Philip Oliver
Wardrobe – Margaret Pierce
Wardrobe – Cherry Briggs
Props – Margaret Davy
Props – Sue Whittaker
Workshop – David Comber
Workshop – David Collis
Workshop – Carl Gray
Workshop – Paul Checkley
Marblous Painters – Sue Chaplin
Marblous Painters – Sheila Neesham
Marblous Painters – Margaret Davy
Original Music Composed & Produced – Steve Gallant
Publicity – Rosemary Bouchy
Publicity – Rosemary Brown
Publicity – Anna Barden
Poster Design – Judith Berrill
Production Photographs – Lucien Bouchy
Front of House – Betty Dawes
Programme Note #1: Richard III
BR wrote: "Richard III is from the early years of Shakespeare's writing career, probably first performed around 1593. While it marks a big advance on earlier works like the three Henry VI plays, it does it does not have the subtlety and richness of the greater writing still to come. Nevertheless, Richard III was highly popular from the outset and has remained so. It's rightly been called 'the first English play that has consistently held the stage'.
Why is Richard III so popular?
The plot is interesting and exiting; it has strong dramatic situations; the language is witty and vigorous; and there's plenty of variety in the multitude of characters. Above all, of course, there is the magnetic character of the ultimate anti-hero, Richard Duke of Gloucester, who ,plots and murders his way to become the Richard III of the title.
Wick's production hopes to bring out all of these strong characteristics of the play. But what else are we trying to highlight?
If we start first with Richard, there is the ambiguity of how we are attracted to a character with no moral scruples, to the point where we are almost complicit in his crimes. The production tries to heighten this ambiguity, and the deeply unpleasant consequences, as his victims and their mourners pile up.
Secondly, we draw we draw out the significance of the four royal women who at various points stand up to Richard. They only have the power of words to tip the scales against him, but finally their deep curses prevail. So, unlike many productions which make some of these parts smaller, we have kept them very prominent, as the strong counterweight to Richard. We have also celebrated to toughness of women kind in the casting of of some of the more ruthless 'enforcers' and 'apprentices' whom Richard employs!
Thirdly, the play has abroad sweep of rise and fall, in which Richard climbs steadily for the first two-thirds of the action and descends more quickly to a bloody retribution [finally destroyed like the mad dog he is often likened to]. At the start of the play we come out of a 'winter of discontent' into glorious summer; then, as 'prosperity begins to mellow and drop into the rotten mouth of death', we descend back into the darkest season. Our production emphasises this further by suggesting that civil war and 'discontent' are not just what the country has come out of, but what it will return to.
Many of the characters shift their allegiance with the political seasons, so we try to show the ambition, hypocrisy and vengefulness that drive them. Against the background of these mean and unattractive qualities in so many of the characters, it's easier to understand why Richard's brand of pure wickedness is more seductive and exciting. In all the scheming manoeuvres that take place in this big game of chess, it's Richard's moves which stand out as brilliant and daring.
We are delighted that this production involves so many of our members in so many different capacities. Newly-joined members have played important part, in the workshop, production and acting departments, for example, and in the composition of the original soundtrack music. It is also tremendous to have five members of the Young Wick team in the cast – along with two distinguished veterans of the 1950s and 1960s Young Wick!"
This is Bob Ryder's seventeenth Wick production as director, in as many years. His previous Shakespeare productions at the Barn were Twelfth Night, Romeo and Juliet, A Midsummer Night's Dream and As You Like It. "
---