The Barn Theatre, Southwick Community Centre.
January 26, 27, 28 & 29, 2005.
---
Shirley Valentine
by Willy Russell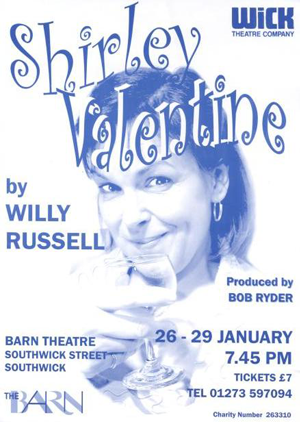 Directed by
Bob Ryder
Cast
Kate Brownings – Shirley
Production Crew
Lighting Design – Mike Medway
Lighting Technician – Janice Gooch
Sound & Projection – Murray Hall
Technical Manager – John Garland
Technical Manager – David Bickers
Stage Manager – David Comber
Stage Manager – Robert Mitchell
ASM – Nikki Dunsford
ASM – Tony Brownings
Design & Graphics – Judith Berrill
Properties – Sue Whittaker
Properties – Margaret Davy
Workshop Team – Mike Davy
Workshop Team – David Comber
Workshop Team – Robert Mitchell
Publicity – Rosemary Bouchy
Publicity – Rosemary Brown
Publicity – Simon Druce
Box Office – Margaret Murrell
Front of House Co-ordinator – Betty Dawes
Programme Note #1: Shirley Valentine
BR wrote: "Willy Russell has a reputation for writing great character parts for women, including his notable early success with Educating Rita. But in many ways Shirley Valentine, which opened on the London stage in 1988, shows his writing at its best. The 1990 film version, with Pauline Collins transferring the rôle from stage to screen, was a popular triumph [it had big box office sakes and several Oscar nominations] but the original stage version is a real masterpiece for a solo performer. Kate Brownings, working with a skilful technical team from all departments of the Wick Theatre Company, brings to life the whole kaleidoscope of humour, exuberance and pathos that makes up the wonderfully believable character created by Willy Russell.
Kate Brownings is no stranger to Russell's work, having appeared as Rita back in 1982 and having directed three other Russell plays since then. In a strange echo of Shirley Valentine's own experience, Kate's first ever stage appearance was in a doomed school nativity play. After moving to Sussex, she took to the stage again in The Big Bad Mouse, where she met husband-to-be Tony, now Chairman of Wick Theatre Company. She first worked with director Bob Ryder in Death and the Maiden [1996] and the in her Barn debut in Arcadia [1999]. They also appeared together in the two acting rôles in Wick's memorable 2002 production of the thriller, Misery."
---