The Barn Theatre, Southwick Community Centre
December 27, 29, 30, 2003 – January 1, 2 & 3 [+ mat.] 2004
Charley's Aunt
by Brandon Thomas
Directed by
Tony Muzzall
---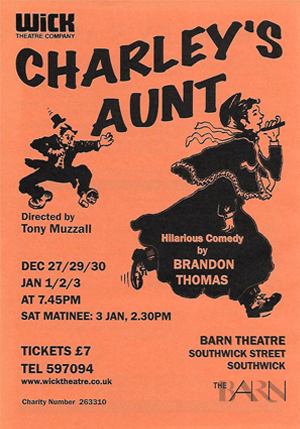 Cast
Rols Ham-Riche – Jack Chesney
Simon Druce – Brassett
John Garland – Charley Wykeham
Mark Best – Lord Fancourt Babberley
Jenny Burtenshaw – Kitty Verdun
Maria Skinner – Amy Spettigue
Peter Thompson – Sir Francis Chesney
John Barham – Stephen Spettigue
Rosemary Mose – Donna Lucia D'Alvadorez
Katie Foulsham – Ela Delahay
Production Crew
Directors Assistant – Joan Bearman
Directors Assistant – Sue Whittaker
Lighting – Mike Medway
Sound – Simon Snelling
Stage Manager – David Comber
Technical Stage Manager – David Bickers
ASM – Sheila Holgate-Wright
Technicians – Chris Grey
Technicians – Janice Gooch
Properties – Sue Whittaker
Properties – Margaret Davy
Wardrobe – Margaret Pierce
Wardrobe – Cherry Briggs
Special Costumes & Wigs – Sheila Neesham
Set Construction – David Collis
Set Construction – Mike Davy
Set Construction – Brian Box
Set Construction – David Comber
Set Construction – Marc Lewis
Set Painting – Sheila Neesham
Press & Publicity – Rosemary Bouchy
Press & Publicity – Rosemary Brown
Press & Publicity – Judith Berrill
Box Office – Margaret Murrell
Front of House Co-ordinator – Betty Dawes
Programme Note #1: Charley's Aunt
TM wrote: "Charley's Aunt first appeared on the London stage 111 years ago – almost to the day – and has been delighting audiences ever since. Although the author, Brandon Thomas, wrote a number of successful light plays. Charley's Aunt is the only one that retains enormous popularity. The play is usually to be found in production somewhere in the world, To my knowledge, however, this is the first time it has found its way onto the Barn stage.
The reason for its popularity is easy to see – put a man in a dress to help out some friends and wait for the confusion and complications to arrive -they undoubtedly will! It matters not that the social etiquette no longer dictates the need of chaperones [the cause of the action], the situation is timeless. The humour comes from embarrassment this situation causes. Long may the simple things in life continue to amuse.
Throughout the past century Charley's Aunt has seen many revisions. This has resulted in other characters assuming the rôle of the 'aunt'. In the musical version, starring Norman Wisdom, Charley becomes his own aunt [as he does in the film version starring Arthur Askey]. In a television production Eric Sykes, playing the rôle of Brassett, is persuaded to assume the garb of 'auntie'. In the Wick version I have kept to the original and let Babbs retain the honour of becoming "Charley's Aunt, from Brazil, where the nuts come from".