The Barn Theatre, Southwick Community Centre.
October 8, 9, 10 & 11, 1997.
---
A Doll's House
by Henrik Ibsen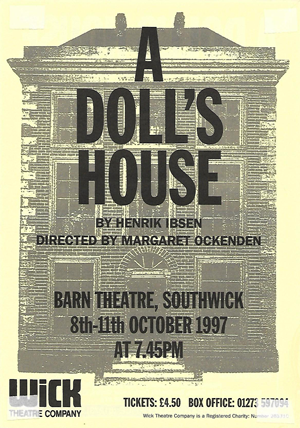 Directed by
Margaret Ockenden
Cast
Tony Brownings – Torvald Helmer
Katalin Szeless – Nora [his wife]
Derek Fraser – Dr. Rank
Heather Richards – Mrs Linde
John Garland – Nils Krogstad
Joan Braddock – Nurse, Anne-Marie
Linda Clark – Maid, Helen
Stuart Isaac – Helmer's child
Annette Thompson – Helmer's child
Production Crew
Stage Manager – Dave Comber
Assistant Stage Manager – Joan Bearman
Lighting – Trevor Langley
Lighting – Frances Thorne
Lighting – Ralph Dawes
Properties – Margaret Davy
Properties – Sue Whittaker
Wardrobe – Margaret Faggetter
Wardrobe – Judith Berrill
Wardrobe – Frances Moulton
Dance Arrangement – Trudy Nash
Pianist – Nick Ryder
Programme Note #1: A Doll's House
MO wrote "Imagine, in 1889, an upper middle-class couple, husband and wife, dressing for the theatre. They know that Mr Ibsen has a reputation for challenging his audiences, even for being rather controversial, and they hope that his new play, A Doll's House, will not disappoint. But little do they know what is in store. For here, quite literally, stands a play ready to change their lives.
At the heart of Ibsen's craft was the ability to pose huge questions about the way that society worked. He did it not through any direct use of politics, or any epic plots, but in domestic settings familiar to the people in the theatre audience of the day, through the words of people recognisably real. In the case of A Doll's House, he posed alarming questions about the value of a male-dominated society and about the need for people to find truth in their own souls.
Perhaps, in some ways, society has moved in the last hundred years. But the fundamental questions posed by Henrik Ibsen's play may seem frighteningly familiar to many of us seeing it today."
---