The Barn Theatre, Southwick Community Centre.
March 12, 13, 14 & 15, 1997.
---
It Runs in the Family
by Ray Cooney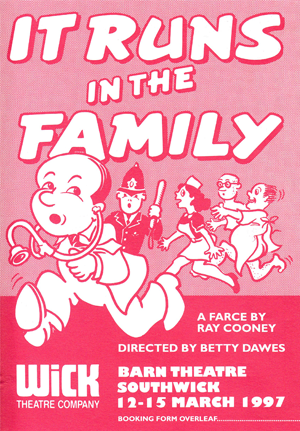 Directed by
Betty Dawes
Cast
Tony Brownings – Dr. David Mortimore
Kevin Isaac – Dr. Mike Connelly
Rosemary Mose – Rosemary Mortimore
Richard King – Dr. Hubert Bonney
Frances Moulton – Matron
Ralph Dawes – Sir Willoughby Drake
Margaret Faggetter – Jane Tate
Jane Richards – Sister
Hannah Collis – Lesley
John Barham – Police Sergeant
Derek Fraser – Bill
Joan Bearman – Mother
Production Crew
Stage Manager – Dave Collis
Set Design – Dave Comber
Lighting & Sound Design – Trevor Langley
Set Construction & Painting – Brian Box
Set Construction & Painting – Dave Collis
Set Construction & Painting – Dave Comber
Set Construction & Painting – Michael Davy
Set Construction & Painting – Ralph Dawes
Set Construction & Painting – Mark Flower
Set Construction & Painting – Sheila Neesham
Set Construction & Painting – Frances Thorne
Wardrobe – Judith Berrill
Wardrobe – Margaret Faggetter
Properties – Margaret Davy
Properties – Sue Whittaker
Continuity – Margaret Ockenden
Publicity – Judith Williamson
Theatre Publicity & Photographs – George Laye
F.O.H. Manager & Box Office – Mark Flower
Programme Note #1: It Runs in the Family
The programme carried this piece about the Director, Betty Dawes
Betty's dream of creating a Theatre Company began in early childhood with her passionate love of drama – she just lived and breathed theatre! Her opportunity to do this eventually emerged and The Wick was born.
Most of her dramatic rôles have been at Southwick – some of the leads affectionately remembered are as Emma in Sailor Beware, My Three Angels, and When We Are Married. She has also directed many productions including Anastasia and Wizard of Oz. She has performed in numerous County Productions touring professional theatre. Guested at Littlehampton in Under Milk Wood and attended many weekend courses at Lodge Hill.
Betty regards the Wick as her extended family and still regularly sees ex-members who were with her at the birth of The Wick. Since her daughter Amanda has been in professional theatre, Betty has worked in the wardrobe and been a dresser at New Sadlers Wells Theatre and with Regents Park Open Air Theatre touring Company.
Grand Opera is her other great love and since 1971 she has been very involved with Southwick Opera directing many productions including works from Verdi, Bizet and the highly successful Don Giovanni by Mozart in 1995. She is currently directing HMS Pinafore for Worthing Operatic Society to be staged at the Pier Pavilion in June and has also staged up-to-date performances of Gilbert & Sullivan at Southwick.
Betty is extremely proud to be President of The Wick and also Southwick Opera.
---