The Barn Theatre, Southwick Community Centre.
April 8, 9, 10 & 11, 1992.
---
A Chorus of Disapproval
by Alan Ayckbourn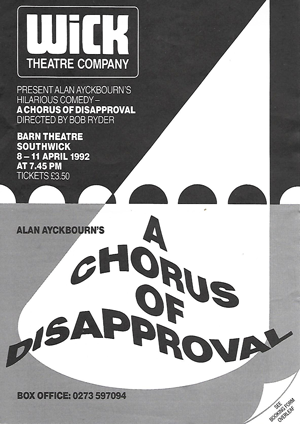 Directed by
Bob Ryder
Cast
Phil Balding – Guy Jones
Vic Gough – Dafydd ap Llewellyn
Judith Atkinson – Hannah Llewellyn
Lynsey Collis – Bridget Bairnes
Patrick Johnson – Mr. Ames
Joan Braddock – Enid Washbrook
Jean Porter – Rebecca Huntley-Pine
Judith Berrill – Fay Hubbard
Charles Porter – Ian Hubbard
John Barham – Jarvis Hunttley-Pike
David Creedon – Ted Washbrook
Kevin Isaac – Crispin Usher
Jane Porter – Linda Washbrook
Production Crew
Assistant Director – Jamie Boath
Music Director & Coach – Patrick Johnson
Choreographer – Jane Porter
Stage Manager – Dave Collis
Assistant Stage Manager – Frances Thorne
Lighting & Sound – Jamie Boath
Lighting & Sound – Ralph Dawes
Wardrobe Co-ordinator – Margaret Faggetter
Props – Margaret Davy
Props – Sue Whittaker
Set Building – Brian Box
Set Building – Dave Collis
Set Building – Dave Comber
Set Building – Mike Davy
Set Building – Ralph Dawes
Set Building – Mark Flower
Continuity – Audrey Laye
Box Office – Jill Redman
Front of House Manager – Mark Flower
Publicity – Jamie Boath
Publicity – Anne Donkin
Publicity – Andrew Cregeen
Publicity – Jean Porter
Photography – George Laye
Musical arrangements from The Beggars Opera specially composed – Patrick Johnson
Programme Note #1: A Chorus of Disapproval
Programme note: "Alan Ayckbourn is the most prolific – and one of the most successful – English playwrights living. Since the 1960's he has been turning out at least one new play every year. Most of them have been solid commercial successes. And their quality is world-famous. Ayckbourn is highly respected in the rest of Europe, where his plays are studied in schools and universities as major works of modern theatre. Sadly in this country there is a snobbish reluctance to treat Ayckbourn seriously. It's strange, but not surprising. Because, although the British certainly enjoy their stage comedy, they somehow can't quite accept it as 'real theatre'.
Alan Ayckbourn challenges these barriers. His plays have profound things to say about people and their problems. But they are presented in the surrounding of pure comedy. We find ourselves laughing helplessly at characters who are fundamentally sad. We may feel guilty or cruel at laughing. But we recognise our own experiences – and we realise that laughter is the surest way to help us get on with the serious business of living our lives. This is the secret of Ayckbourn's skill.
A Chorus of Disapproval, which had its London première in 1985, is the work of a craftsman at the height of his powers. It is put together with the consummate technique of a born playwright and a seasoned director and stage manager.
Ayckbourn uses two stage 'devices' to perfection. One is the parallel between the murky world of The Beggar's Opera – the filthy morals of the thieves and sluts – and the (almost dubious) world of the members of the Pendon Amateur Light Operatic Society, who are putting the show on as their summer production. The other device is that we see these two worlds through the eyes of the innocent young newcomer, Guy Jones. We are shown a combination of the pretend world of the opera and the 'real' world of the opera company. The result is painfully true to life, but – above all – painfully funny.
Wick Theatre Company have, as you will see tonight, poured great dedication into this production. We believe that the talent and commitment of our members – both on the stage and in the backstage and general production support – are second to none. We have a wealth of experience: this is our 148th production and the Company has been performing for over 40 years. But at the same time we are always very keen to welcome new members, whether to assist in our productions or take part in our active social side.
If you are interested in joining us, or would like top become a patron, look out for the details overleaf. But first – judge us by the quality of tonight's performance."
---