The Barn Theatre, Southwick Community Centre.
October 11, 12, 13 & 14, 1989.
---
Stepping Out
by Richard Harris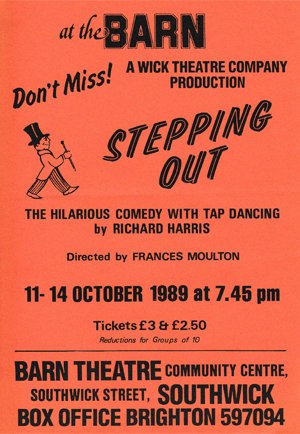 Directed by
Frances Moulton
Cast
Sheila Neesham – Mavis
Daphne Thornton – Mrs. Fraser
Trudy Nash – Lynne
Jane Porter – Dorothy
Margaret Faggetter – Maxine
Margaret Ockenden – Andy
Neil Shepherd – Geoffrey
Doreen Sands – Sylvia
Betty Dawes – Rose
Rosemary Mose – Vera
Ralph Dawes – Nigel
Sue Roberts – Lady
Sue Whittaker – Lady
Production Crew
Director's Assistant – Sue Whittaker
Choreography – Trudy Nash
Rehearsal Pianist – Daphne Thornton
Stage Manager – Ralph Dawes
Stage Manager's Assistant – Dave Comber
Stage Manager's Assistant – Dave Collis
Set Design – Dave Comber
Lighting & Sound – Frances Thorne
Properties – Joan Braddock
Continuity – Sue Roberts
Front of House Manager – Mark Flower
Box Office – Jill Redman
Programme Note #1: Stepping Out
FM wrote: "Stepping Out is a beautifully written comedy about people. All the characters are well defined and interesting, while the dancing gives a new slant to this comedy.
When I saw this play a few years ago, I laughed from beginning to end. I think the secret of its success is that we can all identify with a character in the play.
I hope you enjoy our interpretation."
---